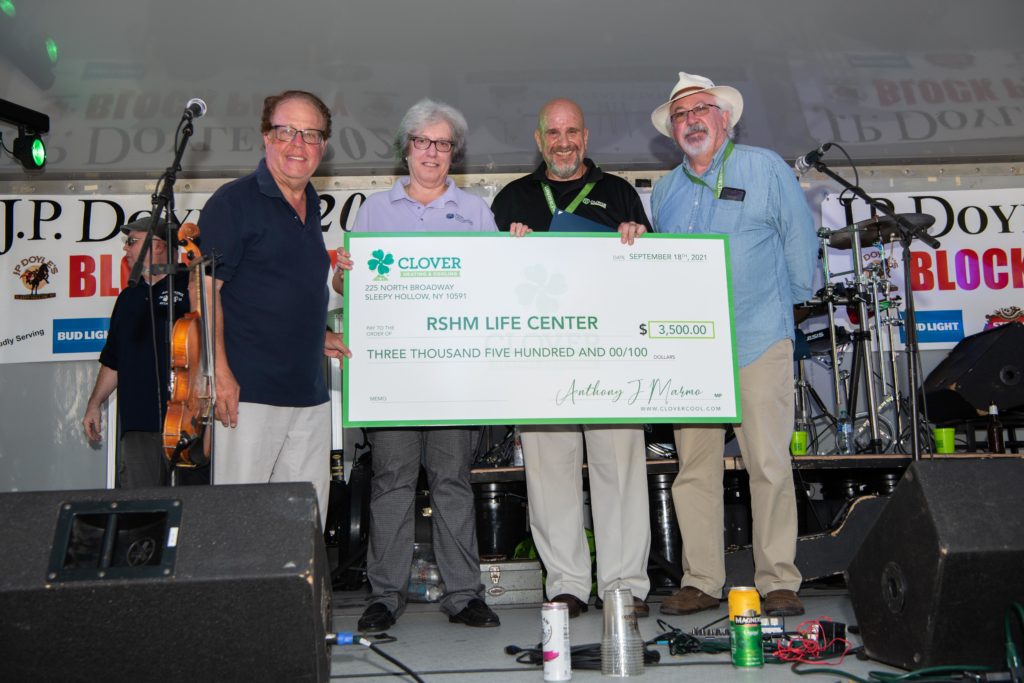 Sleepy Hollow, NY) October 1, 2021 — With more than 1,000 people in attendance, Clover Heating & Cooling kicked off their 35th Anniversary celebration at the JP Doyle block party held in Sleepy Hollow on September 18th when owner Anthony Marmo, presented a check for $3,500 to Sister Susan Gardella of the Religious of the Sacred Heart of Mary (RSHM) Life Center. The donation is being made in memory of Anthony's dear friend, Sister Bernadette Donaghy, RHSM who passed away in 2013. The Life Center, which was started in 1995, delivers a wide variety of programs to the immigrant community and beyond, serving toddlers to seniors.
Once on stage, Marmo received the distinct honor of having September 18th named Anthony Marmo Day in Sleepy Hollow by Mayor Ken Wray. He was also presented with a certificate from NYS Assemblymember Thomas Abinanti who spoke of Marmo's dedication and commitment to the community. In addition, Marmo received certificates from Westchester County Executive George Latimer, Legislators Alfreda Williams and Catherine Borgia.
During the block party, Clover Heating & Cooling also hosted a 50/50 raffle with all proceeds going directly to the Life Center. Nicky Bell of JP Doyle's won and donated his half back which added another $1,715 to the total donated to the Life Center.
Marmo and his staff also donated 35 backpacks for local students, in partnership with the Brielle Sky Foundation, Sleepy Hollow Police Department and Tarrytown Police Department in the month of August. The backpacks were distributed to the children at the Tarrytown Community Opportunity Center. An additional 35 backpacks are being donated to the Westchester Community Opportunity Program (WestCOP), and 35 more will be donated to RSHM.
In November, Marmo and his staff will donate 35 turkeys for Thanksgiving to WestCOP from the Community Opportunity Center in Tarrytown. WestCOP is a private, not-for-profit, multi-purpose social services organization that operates community programs combating poverty and its adverse effects in the Hudson Valley for over 50 years helping the low-income and at-risk populations in the Hudson Valley region to achieve greater self-sufficiency.
Continued….
"It was a true honor for us to be recognized by both the Mayor, County and State. But we are happy to give back to the Life Center and to so many others through our donations. It is so simple to make a big difference in people's lives with simple acts of kindness and me and my staff feel blessed to be in a position to help," stated Marmo.
Clover Heating & Cooling will also provide free Carbon Monoxide testing for current clients for the next 12 months and offer a special $35 rate for future clients. "Anytime fuel burns, it creates a deadly gas called carbon monoxide," Marmo said. "Gas for fireplaces, stoves, water heaters, furnaces and other appliances can also leak carbon monoxide if not properly exhausted to the outside. If there's a leak in the seal of the appliance's exhaust system, the CO will leak into your home. This testing, like an automotive emissions test, provides a level of comfort to anyone wondering if their home has a carbon monoxide issue." For more information about this service call 914-631-6744 or visit www.clovercool.com.
Anthony J. Marmo is president and founder of Clover Heating Inc. doing business as Clover Heating & Cooling, Clover Comfort "The Green Home Pros" and owner of Zerodraft of Metropolitan New York, based in Sleepy Hollow, New York. Clover Comfort serves Westchester, Rockland and Putnam counties. A licensed plumbing, heating and air conditioning specialist, founder Anthony Marmo has broadened his expertise through extensive training to become an industry leader in environmentally friendly, geothermal, aerothermal, and solar thermal heating and cooling systems. A "Green Home" Professional he holds certifications of expertise from the Building Performance Institute, the National Comfort Institute, and North American Technician Excellence, Inc.