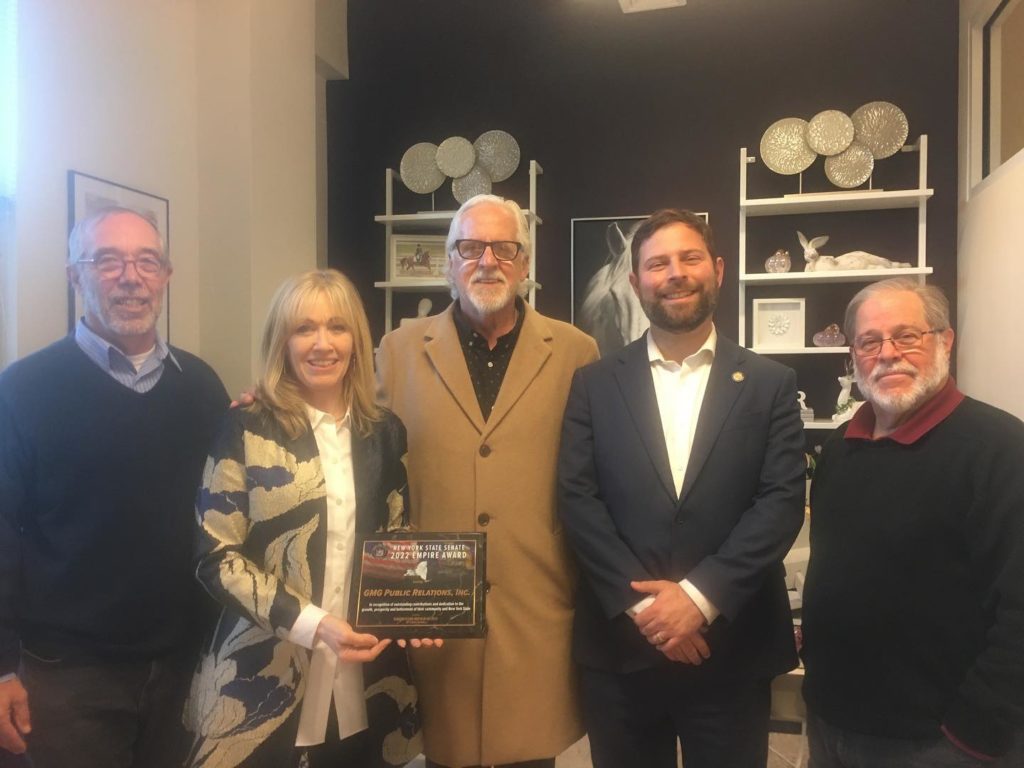 "It was a pleasure to present a NY State Empire Award to Risa B. Hoag, Founder and President of GMG Public Relations, Inc., in Nyack. Through her leadership in Rockland organizations, Ms. Hoag supports local small businesses and non-profits with her public relations, marketing and social media expertise, and during the height of COVID, she advised businesses on pivoting where necessary to stay afloat," stated Senator Reichlin-Melnick.
A lifelong resident of Rockland, Hoag established GMG in 1991. She is a co-founder of the Greater Nanuet Chamber of Commerce and Past President of Rockland Business Women's Network and served on the board of Meals on Wheels, creating and chairing their annual gala. She also serves on the board of the Rockland Community Foundation.
"Owning a small business means you are always on call, always working long hours, trying to find time to balance everything. And yet, finding time to give back to your community is so important. It makes all the long hours worth it when you contribute to something bigger than you and help enact change or support people who might not be as fortunate. I'm grateful to have been able to do my small part over the past 30 years," states Hoag.
Risa has more than 35 years of experience in public relations and marketing. Prior to founding GMG Public Relations in 1991, she was a Director of Public Relations with Ernst & Young with responsibility for media placement, writing feature articles and press releases, developing and coordinating special events, market research, and the design and placement of advertising.
Hoag held numerous board positions with the Westchester Association of Women Business Owners (WAWBO) over a fifteen-year period including President and twice received the organization's President's Award. She also co-founded Partnership For A Better Westchester in 1997 and is a past Public Relations Chairperson for the Advertising Club of Westchester as well as a past Vice President of the Tappan Zee International Trade Association. She has served on the board of the Orange & Rockland Community Investment Committee, and recently chaired the Marketing and Communications subcommittee of the Clarkstown Business and Economic Development Advisory Committee. She has served as a mentor to Rockland Community College students and to female students through The Gerald P. Buccino Center for Leadership Development at Seton Hall University's Stillman School of Business.
Risa is a member of the Public Relations Society of America and a recognized seminar leader, presenting numerous public relations, marketing and social media workshops. An accomplished business writer and source, Risa has appeared on several radio and television programs and has been quoted and featured in numerous national and local publications. She is a member of the 2018 Class of Leadership Rockland and was the recipient of the RBWN Service Woman of the Year Award in 2017. She has also been honored with the 2019 Lillian Vernon Award for Community Service from the Women's Enterprise Development Center and she received a 2019 Distinguished Service Award from the County of Rockland for her dedication and Community Service. Her company information can be found at www.gmgpr.com.