(ROCKLAND COUNTY, New York) September 24, 2021 – Taste your way around the world, learn about the cultural traditions behind your food, whip up irresistible courses, and bring home the culinary magic by taking part in a newly revitalized community cooking class taught by our well-traveled, expert chefs at the Rockland Community College Hospitality & Culinary Arts Center, located at 70 Main Street in Nyack.
The cost for each event is $65 per person. Classes will run from 6:30 – 9:00 pm and are available to all adult members of the community—beginners or experienced. The Food Enthusiast Program fills up quickly so reserve your spot today.
RCC provides all food, equipment, and supplies—including snacks when participants arrive to class. Teams of two will make the recipes after the demonstrations. Instructors will be on hand to offer assistance throughout the class. All attendees will eat or take home a portion of each recipe.
Fall Schedule:
Oktoberfest Dinner with Steven Brunner – Thursday, September 30, 6:30pm to 9:00pm
Authentic Mideastern Cooking Class – Thursday, October 14, 6:30pm to 9:00pm
Asian Hors d'oeuvres Class – Thursday, November 4 (more details will be posted soon for this class)
Winter Wonderland Menu – Thursday, December 9 (more details will be posted soon for this class)
Registration for the classes is open now at rccculinarycenter.com. For questions contact the Nyack Hospitality & Culinary Art Center's director, Mark Davidoff at 845-875-7571 or mdavidof@sunyrockland.edu.
Chef Steven Brunner will host the Oktoberfest dinner. Steve is a retired New York City Firefighter and former Executive Chef at Flik International, The Rainforest Cafe and The Pleasantville Country Club. He has won the Iron Skillet Competition, The Daily News 5-Alarm Cook-off and has appeared as a Firefighter Chef on TV with Rachel Ray & Katie Couric. The Oktoberfest menu will feature:
Homemade Kase Spaetzle with Bacon and Swiss Cheese
Jaeger Schnitzel (Pan Fried Pork Schnitzel with Mushroom Gravy)
Sweet and Sour Braised Red Cabbage with Apples
– Schwartzwalder Kirshwasser Trifle (Black Forest Cake)
Amalia Schneider, a professional chef and a long-time food enthusiast, will host the Mideastern Cooking Class. She earned a certificate in Culinary Arts from the Institute of Culinary Education in New York City, has worked for Abigail Kirsch, assisted chefs at the James Beard House, and taught classes at Sur La Table. Amalia will demonstrate the preparation of a traditional Mediterranean meal from appetizers (mezze) through authentic couscous and the much-loved Mideastern custard, Malabi. The Mideastern Cooking menu includes:
Homemade Hummus
Spicy Tomato Salad
Couscous with Chicken and Vegetables (Vegetarians can opt out of the chicken)
Malabi
Masks are required and for more COVID-related safety instructions and information, visit the College's coronavirus webpage.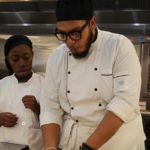 About Rockland Community College's Hospitality and Culinary Arts Center
The RCC Hospitality and Culinary Arts Center was created in response to the burgeoning growth in restaurants and tourism in the Mid-Hudson Valley and the resulting need for more qualified workers. The curriculum focuses on New York artisanal food, craft beverages and agriculture. It offers fast-track culinary arts certificate programs, workforce-ready training for veterans and under-served populations, a state-of-the-industry teaching kitchen and a market store with freshly prepared foods for take-out or delivery. More information can be found at www.sunyrockland.edu.