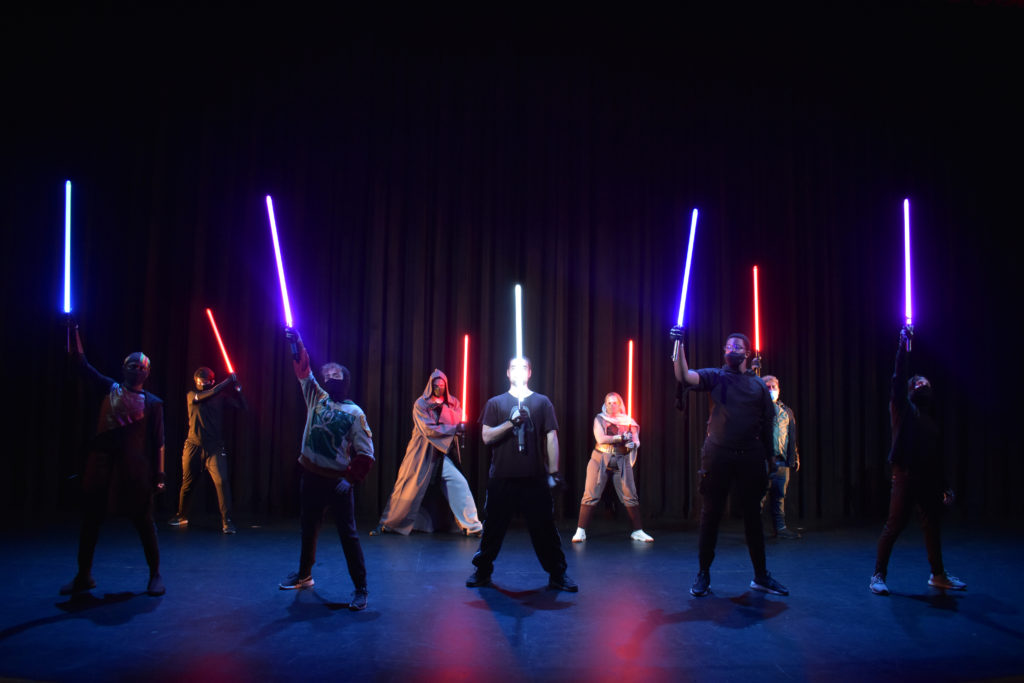 ROCKLAND COUNTY, NY (September 10, 2021) – Each semester, the RCC Visual and Performing Arts Department holds Skills Proficiency Tests (SPT) for students enrolled in the Theatrical Stage Combat courses. Last month, the school held its first SPT in Lightsaber. Christopher Plummer, Director of RCC's Cultural Arts Theatre is a Certified Teacher with the Society of American Fight Directors (SAFD) and held the certification tests along with Patricia Maloney-Titland, Professor in the Department of Visual and Performing Arts. "The SPT certification test is a rigorous demonstration and examination of their new skill sets and each student challenged themselves in new and wonderful ways." Plummer says. "While the students studied martial techniques associated with longsword, the focus of the course was Lightsaber and it was a huge success!"
Lightsaber is a unique course that incorporates other aspects of performing theatrical stage combat. Each student had to create their own character and costume that could inhabit the Star Wars universe—from their names and appearance to their home world and complete backstory.
"Eight people were eligible to take the test and former SAFD President, Fight Master and Broadway Fight Director J. David Brimmer came to adjudicate the students. I am thrilled to report that they all earned their certification in Lightsaber (Broadsword) with the Society of American Fight Directors—and they accomplished all of this while wearing masks, not an easy feat!" The students were:
Iris Bonhomme (Returning Adult Student)
Michael Boakye
Mason Brebnor
Francisco R. Carmo
Marco Flores
Ryan McNeill
Ryan Pompei
Charlie Sutherland
In addition, working with Patty Maloney and the Visual and Performing Arts department, the theatre has added the capability to film full stage scenes against a giant green-screen and green/blue chroma flooring. "The students had the opportunity to film their fight scenes to be fully edited into a Star Wars spectacle for the VPA's Cinema and Film Studies program," Plummer says, noting that it also allows clients to use the 40′ x 40′ space in an entirely new way.
"We were also able to use this equipment to film a scene from The Taming of the Shrew to round out our 24th season for the Rockland Shakespeare Company. This is all a thrilling addition to the opportunities available to students in the RCC Visual and Performing Arts department."
When all the film footage has been edited, the department is planning on holding an intimate premiere in the CAC Theatre by the end of the summer or early in the fall semester. A firm date will be announced once the footage has been edited and the final cuts of the scenes have been completed.
About Rockland Community College, State University of New York                          
Rockland Community College, State University of New York, offers a safe, supportive learning environment for thousands of students from diverse backgrounds who appreciate small class sizes and personal attention from a distinguished, award-winning faculty that includes Fulbright scholars and SUNY Distinguished Professors. Thanks to the school's affordable tuition, students who begin their career journey at RCC and then transfer to a four-year college can save up to $100,000 on their education. RCC is also proud to provide career training and professional development to adult learners looking to change careers or upgrade their skills through its new Career Skills Academy. More information can be found at www.sunyrockland.edu.