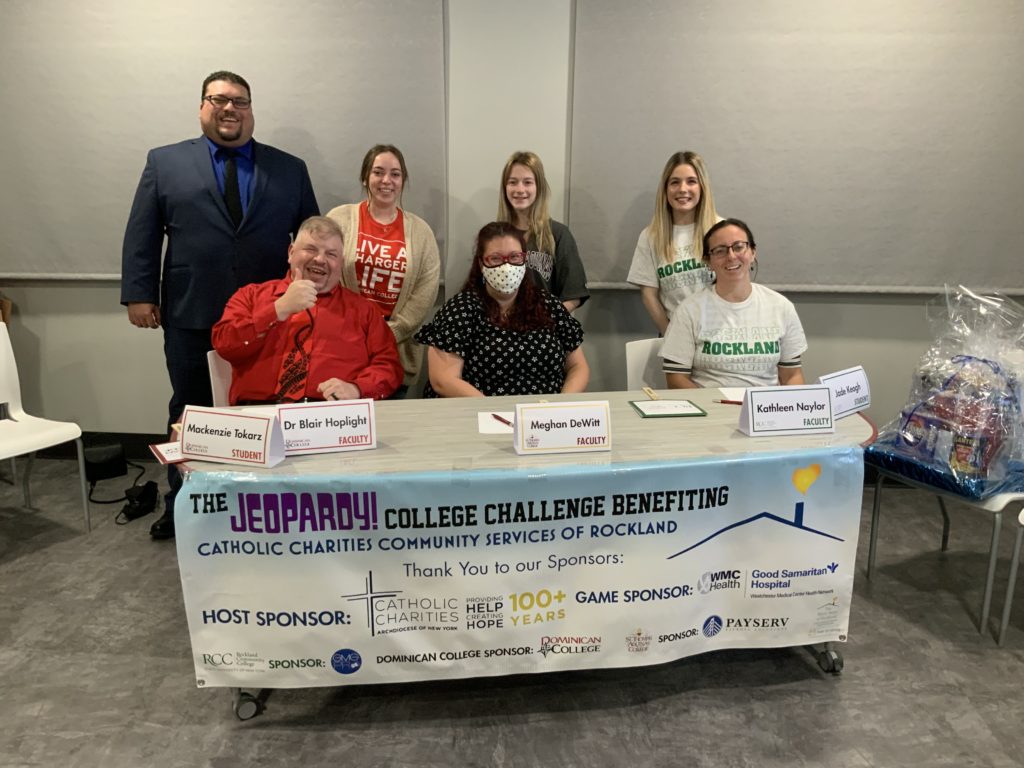 (ROCKLAND, New York) November 12, 2021 – Catholic Charities Community Services of Rockland (CCCSR) hosted the 2nd Annual Jeopardy Challenge Fundraiser on October 28th. This year's contestants were students and faculty/staff from the three Rockland Colleges – Rockland Community College, St. Thomas Aquinas, and Dominican College. The event was broadcast live on the Facebook and Instagram pages for Catholic Charities Community Services of Rockland.
Hawthorne resident and real-life Jeopardy Champion, Pasquale Palumbo, was the host and did an exceptional job facilitating the games during the 45-minute session. Palumbo was on the show during the time Greenbay quarterback Aaron Rodgers was the guest host.
The game featured categories sponsored by local businesses and each College team was sponsored by local organizations and businesses. Anyone can watch the replay on the Catholic Charities Facebook page here: https://www.facebook.com/CatholicCharity/
"We are grateful to the colleges and to the supporters of the game. We raised over $9,000 and 100% of the money raised will go to help Rocklanders in need with life essentials such as food, clothing, and personal care items. We want to congratulate all the college participants, but particularly Rockland Community College who came out on top this time around," stated Dan Eudene, Executive Director of Catholic Charities Community Services of Rockland.
More information can be found at www.ccsrockland.org/jeopardy. For inquiries call Dan Eudene at (845) 942-5791 (ext. 1002) or email daniel.eudene@archny.org.