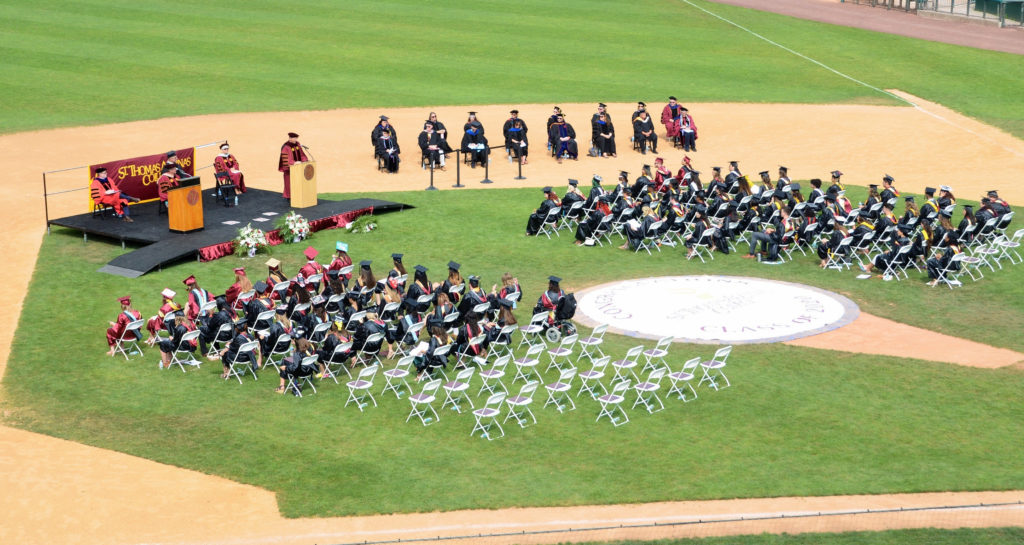 (SPARKILL, N.Y. — July 20, 2021) — St. Thomas Aquinas College (STAC) was finally able to honor the Class of 2020 in-person at the Palisades Credit Union Park on Friday, July 16, 2021. The Class of 2020 was previously celebrated virtually at the 63rd Commencement Exercises last year because of social distancing and safety-based protocols brought about by the COVID-19 pandemic.
On Friday, July 16, 2021, the Class of 2020 came together to celebrate their collegiate achievements and formally walk across the stage — in-person! — at Palisades Credit Union Park in Pomona, NY, the home of the New York Boulders and the STAC Spartans Men's Baseball team. The excitement was palpable as students, along with hundreds of their guests, fellow alumni, and members of the STAC community attended this special occasion. Over 300 graduates from the Class of 2020 earned their master's, bachelor's, and associate's degrees. Students who completed the Honors Program of Study and Aquinas Leaders Program were also officially recognized at the ceremony for their admirable accomplishments.
Besides commemorating the 2020 Class, the STAC Community honored Mr. Frank Squeo, Founder of Baking Memories 4 Kids, as the College's President, Kenneth D. Daly, and Chairman, Peter Skae, bestowed upon Mr. Squeo an Honorary Doctor of Public Service degree.
Frank Squeo addressed the Class of 2020 and shared two tips and one wish: "Plan diligently in your life; set goals and achieve them. Always give it your best, and that will guarantee success. The wish I have is that, like myself, you all find your destiny in life. I planned everything but God had a different plan. I had advanced stage three cancer and from that I found my destiny was to start this amazing foundation helping sick children."
President Daly shared kind words with members of the Class of 2020, "Just two months after we recognized the Class of 2021 — my first ever graduating class — we were delighted to finally be able to bring back the Class of 2020 and to bestow upon them the honor that they so rightly deserved, yet so patiently awaited. We will always remember them for not just waiting the longest, but for being the strongest, and for setting the example of resilience for many graduating classes to come."
Valedictorian, Aliza Curray Deen, addressed her fellow Class of 2020 graduates and imparted words of wisdom as they continue their career journeys post-graduation. Aliza also reflected on the ceremony and how important it was to her: "My time at STAC has helped me grow as an individual and also build some of the closest relationships I have today. It was so wonderful to see the Class of 2020 again, and I feel like I've finally graduated!"Congratulations again to the St. Thomas Aquinas College Class of 2020! The STAC community is thankful to the College's dedicated faculty, staff, students, friends, and all who came together to celebrate our graduates.
St. Thomas Aquinas College is an independent liberal arts college located on 72 acres in Rockland County, NY, which provides education at the undergraduate and graduate levels. The College's approximately 2,000 full and part time students can choose from more than 100 different majors, minors, specializations, and dual-degree programs across three Schools: Arts & Sciences, Business, and Education. The College is recognized by U.S. News & World Report in the Top-Tier for Regional Universities, by Colleges of Distinction in both its New York and Catholic editions, by Affordable Colleges Online as a top College in New York for Return on Investment, and is included as a Military Friendly School®. St. Thomas Aquinas College is accredited by the Middle States Association of Colleges and Schools; its School of Education is a candidate for accreditation by the Association for Advancing Quality in Educator Preparation (AAQEP); and its School of Business is accredited by the International Accreditation Council for Business Education (IACBE). For more information, visit www.stac.edu.