President Daly Launches "Access and Affordability" Scholarship Drive with Founding Gift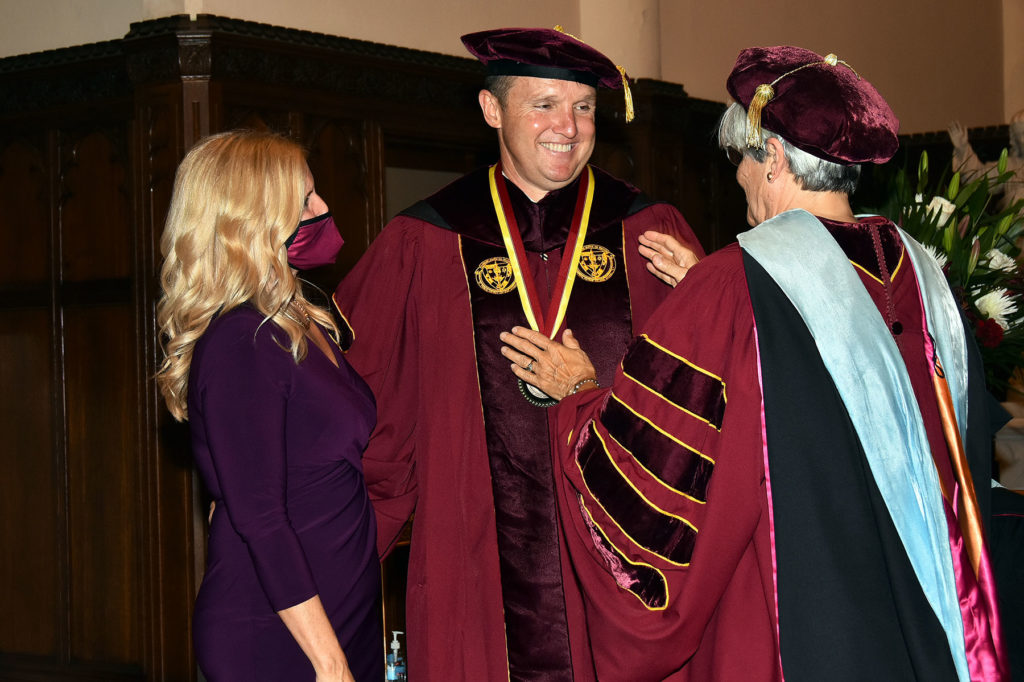 (SPARKILL, NY – October 25, 2021) – St. Thomas Aquinas College (STAC) held a Presidential Inauguration Ceremony for Ninth President, Kenneth D. Daly, Thursday afternoon at the Sacred Heart Chapel in Sparkill, NY. The College's Board of Trustees, Dominican Sisters of Sparkill, special guests, and members of the STAC community came together on a beautiful fall day to commemorate the official — and long-awaited — ceremony to mark this historic occasion.
Kenneth D. Daly assumed his position as the ninth President of St. Thomas Aquinas College on July 1, 2020. He led the College through the COVID-19 pandemic and held off on his Inauguration Ceremony until the campus was safeguarded. President Daly and his wife Laurie entered the beautiful Sacred Heart Chapel in procession with delegates from academia, STAC Deans and faculty members, the College's Board of Trustees, and Inaugural Speakers leading the way. Alumni and members of local government and community were also in attendance to witness the ceremony. Chairman of STAC's Board of Trustees, Peter Skae, presented President Daly with the College's Charter, followed by President Emerita Margaret Fitzpatrick bestowing the College medallion to officially mark the Inauguration. To close the Ceremony, President Daly gave his Inauguration Address, remarking on his journey to the College and vision for the future.
Following the ceremony at Sacred Heart Chapel, guests processed through the grounds and were greeted by the founding Dominican Sisters on their way back to the STAC campus to enjoy a reception with refreshments at the newly renovated Romano Student Alumni Center. Employees, guests, and members of Ken's family mingled on campus and celebrated the occasion into the early evening. Hundreds of STAC students then kept the celebration going into the later evening for President Daly's Inauguration "Student-Afterparty" with food, fun, and a live DJ.
As the new President, Daly is committed to helping students navigate current societal challenges by providing access to affordable education to prepare them for college, community service, and careers. His vision for the future truly aligns with the College's Mission Statement — "St. Thomas Aquinas College seeks to challenge, guide, and energize each student to realize and create their own path to success and commit themselves to making a profound difference in the world."
President Daly outlined the College's Shared Vision for the future built upon the following five key strategic pillars:
At the Inauguration Ceremony, President Daly and his wife Laurie announced a $100,000 founding gift to launch a scholarship challenge to help provide "access to an affordable education" for all students and have already secured $500,000 in matching gifts. To contribute, please visit www.stac.edu/ken-daly-inauguration-scholarship-challenge. As the new President of St. Thomas Aquinas College, Ken Daly stated, "I am honored to build upon the legacy of our founding Dominican Sisters of Sparkill and my predecessors and to now lead the College into the future. The importance of a college education is greater now than ever and we are committed to providing access to affordable education to change the lives of our students."
View a recording of President Kenneth D. Daly's Inauguration here. (Please see thirty-five minute mark for President Daly's remarks.)
St. Thomas Aquinas College is an independent liberal arts college located on 72 acres in Rockland County, NY, which provides education at the undergraduate and graduate levels. The College's approximately 2,000 full and part-time students can choose from more than 100 different majors, minors, specializations, and dual-degree programs across three Schools: Arts & Sciences, Business, and Education. The College is recognized by U.S. News & World Report in the Top-Tier for Regional Universities, by Colleges of Distinction in both its New York and Catholic editions, by Affordable Colleges Online as a top College in New York for Return on Investment, and is included as a Military Friendly School®. St. Thomas Aquinas College is accredited by the Middle States Association of Colleges and Schools; its School of Education is a candidate for accreditation by the Association for Advancing Quality in Educator Preparation (AAQEP), and its School of Business is accredited by the International Accreditation Council for Business Education (IACBE). For more information, visit www.stac.edu.