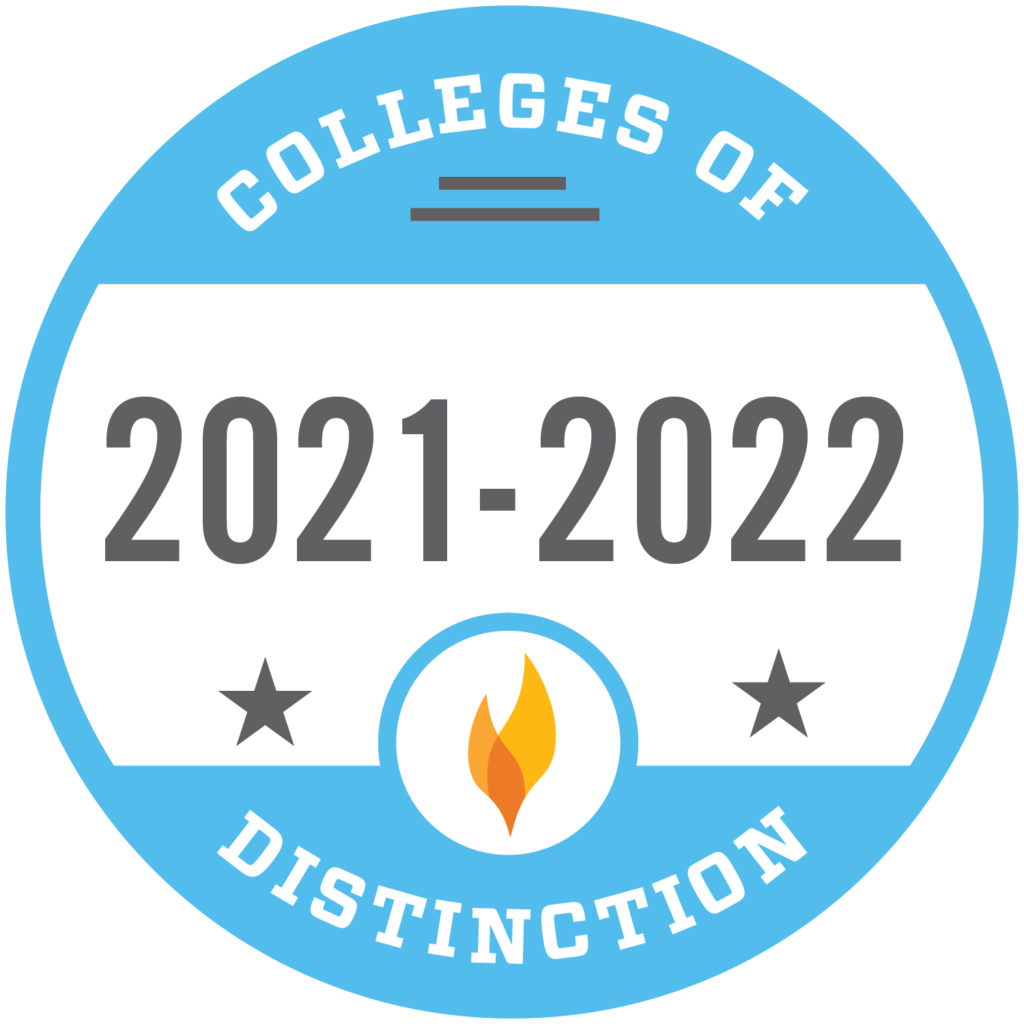 College guide's unique methodology continues to promote engagement over prestige.

(SPARKILL, N.Y. — Thursday, July 15, 2021) — St. Thomas Aquinas College (STAC) has been recognized for its honorable commitment to engaged, hands-on education by Colleges of Distinction, a one-of-a-kind guide for college-bound students. As an institution whose primary goals are based on student success and satisfaction, St. Thomas Aquinas College claims its honor as one of the renowned Colleges of Distinction for the following recognitions, 2021-2022 College of Distinction, New York College of Distinction, Business, Education, and Career Development.
President Ken Daly said, "St. Thomas Aquinas College is honored to (again) be recognized as a leader in promoting student success. We are blessed to have a highly talented faculty and we are focused on creating a vibrant STAC community, which will result in highly engaged students who successfully achieve their desired academic and career outcomes. We are especially delighted to achieve this recognition after providing more academic, financial, and wellness support to our students this past year than at any time in our history."
Colleges of Distinction's long standing support for student-centered schools highlight those that traditional rankings often overlook. Their selection process comprises a sequence of in-depth research and detailed interviews with the schools about each institution's freshman experience and retention efforts alongside its general education programs, career development, strategic plan, student satisfaction, and more — and accepting only those that adhere to the Four Distinctions: Engaged Students, Great Teaching, Vibrant Community, and Successful Outcomes.
"All students have their own unique set of abilities, their own goals, and their own ideal settings in which they would thrive," said Creel. "That's why we don't rank our schools. It's about finding the best opportunities for each individual's needs and desires. "It's inspiring to see St. Thomas Aquinas College commit to the learning styles and community involvement that will best allow their students to succeed in and beyond their college years."

About Colleges of Distinction
Since 2000, Colleges of Distinction has been committed to honoring schools throughout the U.S. for true excellence in higher education. The member schools within the Colleges of Distinction consortium distinguish themselves through their dedicated focus on the undergraduate experience. Its website provides dynamic college profiles, customized tools, and resources for students, parents, and high school counselors. For more information, and to learn how to become a College of Distinction, visit CollegesofDistinction.com.
St. Thomas Aquinas College is an independent liberal arts college located on 72 acres in Rockland County, NY, which provides education at the undergraduate and graduate levels. The College's approximately 2,000 full and part time students can choose from more than 100 different majors, minors, specializations, and dual-degree programs across three Schools: Arts & Sciences, Business, and Education. The College is recognized by U.S. News & World Report in the Top-Tier for Regional Universities, by Colleges of Distinction in both its New York and Catholic editions, by Affordable Colleges Online as a top College in New York for Return on Investment, and is included as a Military Friendly School®. St. Thomas Aquinas College is accredited by the Middle States Association of Colleges and Schools; its School of Education is a candidate for accreditation by the Association for Advancing Quality in Educator Preparation (AAQEP); and its School of Business is accredited by the International Accreditation Council for Business Education (IACBE). For more information, visit www.stac.edu.