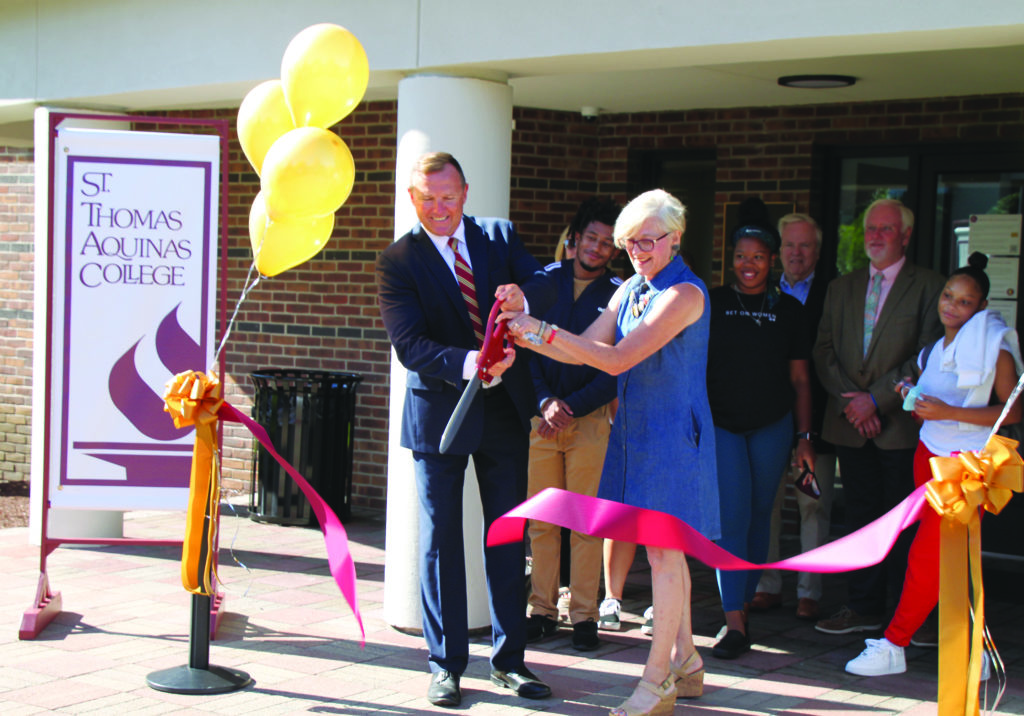 (SPARKILL, NY – September 21, 2021) – St. Thomas Aquinas College (STAC) held a celebratory ribbon-cutting ceremony this morning in front of the newly renovated, two-level Romano Student Alumni Center (RSAC). President Daly was assisted by Rose Werner from Werner Construction in cutting the ribbon while surrounded by STAC students, members of the campus community, and guests who came together to see firsthand the completion of these state-of-the-art renovations.
RSAC's lower level has been given an "extreme makeover" and transformed into an amazing space for relaxing and dining at the Spartan Grille, reimagining student engagement while catering to student-centric needs. Equipped with new furniture and a fresh look, Spartans have dedicated spaces in each quadrant for gaming, sports-related watch parties, billiards, and a new "Central Perk" coffee lounge area.
The upper level of the RSAC now houses STAC's brand-new Student Career Services Center, which was opened last month, outfitted with offices, a large common area, conference room, private rooms for interviews, as well as a presentation area. Students visit the Career Center to engage in mock-interviews, internship workshops, and resume writing, while preparing for internship opportunities and future careers. We encourage STAC alumni to visit campus and the Career Center throughout all stages of their careers.
President Ken Daly remarked: "We are excited about the investments we are making on the campus as part of our "Welcome Back to STAC campaign": in July, we opened a new Admissions Center, and in August, we opened a new Career Services Center. These two projects are symbolic of our "twin pillars" of providing access to education for students at the front end of their college experience and helping them launch their careers at the back end of their time at STAC. The final phase of our Summer construction was completed today as we opened our new Student Center — a home for our students so they feel welcome, engaged, and are able to connect with one another in a fun way in this state-of-the-art location."
St. Thomas Aquinas College is an independent liberal arts college located on 72 acres in Rockland County, NY, which provides education at the undergraduate and graduate levels. The College's approximately 2,000 full and part-time students can choose from more than 100 different majors, minors, specializations, and dual-degree programs across three Schools: Arts & Sciences, Business, and Education. The College is recognized by U.S. News & World Report in the Top-Tier for Regional Universities, by Colleges of Distinction in both its New York and Catholic editions, by Affordable Colleges Online as a top College in New York for Return on Investment, and is included as a Military Friendly School®. St. Thomas Aquinas College is accredited by the Middle States Association of Colleges and Schools; its School of Education is a candidate for accreditation by the Association for Advancing Quality in Educator Preparation (AAQEP), and its School of Business is accredited by the International Accreditation Council for Business Education (IACBE). For more information, visit www.stac.edu.