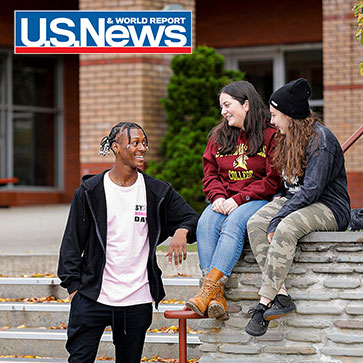 (SPARKILL, NY – September 14, 2021) – St. Thomas Aquinas College is proud to be ranked among the Best Colleges by U.S. News & World Report for 2022, along with ranking as a top performer in Social Mobility for the third year in a row. Institutions are ranked according to their performance across a set of widely accepted indicators of excellence. These statistics aid as deciding factors for students when applying to colleges and universities.
U.S. News & World Report gathers data on each institution in 17 areas related to academic excellence, and benchmarks each school's performance across different ranking indicators. Many of the latest statistics used in calculations include student-faculty ratio, the average federal loan debt of graduates, application requirements, tuition and financial aid policies, student body demographics, and campus life.
"Social Mobility" is measured by the percentage of students who graduated from an institution and received federal Pell Grants (those typically from households with low family incomes.)
STAC President Ken Daly commented, "We are delighted to receive this recognition from U.S. News & World Report as one of the best colleges for the social mobility of our students. Given the social justice issues that our students are currently facing in their communities, there has never been a more important time to support these vulnerable students and provide them with the guidance and mentoring they need to succeed in college, careers, and life."
About U.S. News & World Report's Rankings
U.S. News & World Report is a multifaceted digital media company dedicated to helping citizens, consumers, business leaders and policy officials make important decisions in their lives. U.S. News & World Report's Education platform gathers data on institutions in 17 diverse areas related to academic excellence. Each indicator is assigned a weight (expressed as a percentage) which measures of quality matter most, with an emphasis on outcomes. Statistics include graduation rates, faculty-to-student ratios, student body characteristics, post-graduate employment, and more. U.S. News is headquartered in Washington, D.C. with advertising, sales and corporate offices in New York and New Jersey.
St. Thomas Aquinas College is an independent liberal arts college located on 72 acres in Rockland County, NY, which provides education at the undergraduate and graduate levels. The College's approximately 2,000 full and part-time students can choose from more than 100 different majors, minors, specializations, and dual-degree programs across three Schools: Arts & Sciences, Business, and Education. The College is recognized by U.S. News & World Report in the Top-Tier for Regional Universities, by Colleges of Distinction in both its New York and Catholic editions, by Affordable Colleges Online as a top College in New York for Return on Investment, and is included as a Military Friendly School®. St. Thomas Aquinas College is accredited by the Middle States Association of Colleges and Schools; its School of Education is a candidate for accreditation by the Association for Advancing Quality in Educator Preparation (AAQEP), and its School of Business is accredited by the International Accreditation Council for Business Education (IACBE). For more information, visit www.stac.edu.