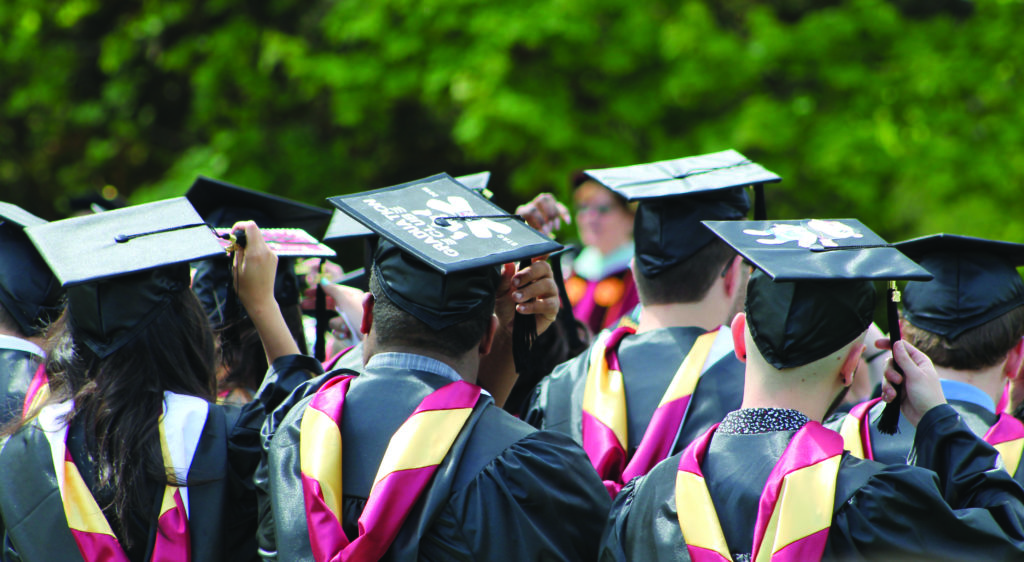 (SPARKILL, NY – May 4, 2021) – St. Thomas Aquinas College will hold its 64th Commencement Exercises in-person at Palisades Credit Union Park in Pomona, NY, the baseball home of the New York Boulders — and the STAC Spartans! — on Tuesday, May 18, 2021 at 2:00 PM.
Many other colleges have made the tough decision to hold virtual graduations, but we have remained steadfast in our commitment from the outset to hold our 2021 Commencement in-person. Thankfully, once the New York State guidelines were updated, we knew we could put together a wonderful and safe event to celebrate the most important occasion in our student's lives. We will follow COVID-19 health and safety protocols to keep everyone safe.
This will be Kenneth Daly's first Commencement as STAC's President, where he will celebrate our students as he confers master's, bachelor's, and associate degrees, as well as various awards. President Daly said, "After a very challenging year, we are delighted to honor the STAC Class of 2021 in-person at a single Commencement event with their friends and families in attendance. We will always remember the Class of 2021 for their resilience and for the care they demonstrated for one another and the entire STAC community. I look forward to saluting them on May 18 as they complete their final college chapter and begin their future journey."
The College is honored to have Dr. Philip O. Ozuah, MD, Ph.D., President and Chief Executive Officer, Montefiore Medicine, who will give this year's Commencement address. Dr. Ozuah has led a team of health care professionals who have tirelessly served on the front lines this past year to safeguard our community. Dr. Ozuah will provide words of wisdom and address the Class of 2021 as they begin their career journeys during this challenging time. Dr. Ozuah will also receive the Honorary Doctor of Public Service from St. Thomas Aquinas College.
The STAC Spartans are resilient. Students have remained diligent, focused, and determined over the course of these difficult semesters during the pandemic, adapting to extraordinary conditions and transitioning to a virtual learning platform. The College looks forward to recognizing and honoring the Class of 2021 and their many noteworthy accomplishments.
St. Thomas Aquinas College is an independent liberal arts college located on 72 acres in Rockland County, NY, which provides education at the undergraduate and graduate levels. The College's approximately 2,000 full and part-time students can choose from more than 100 different majors, minors, specializations, and dual degree programs across three Schools: Arts & Sciences, Business, and Education. The College is recognized by U.S. News & World Report in the Top-Tier for Regional Universities, by Colleges of Distinction in both its New York and Catholic editions, by Affordable Colleges Online as a top College in New York for Return on Investment, and is included as a Military Friendly School®. St. Thomas Aquinas College is accredited by the Middle States Association of Colleges and Schools; its School of Education is a candidate for accreditation by the Association for Advancing Quality in Educator Preparation (AAQEP), and its School of Business is accredited by the International Accreditation Council for Business Education (IACBE). For more information, visit www.stac.edu.