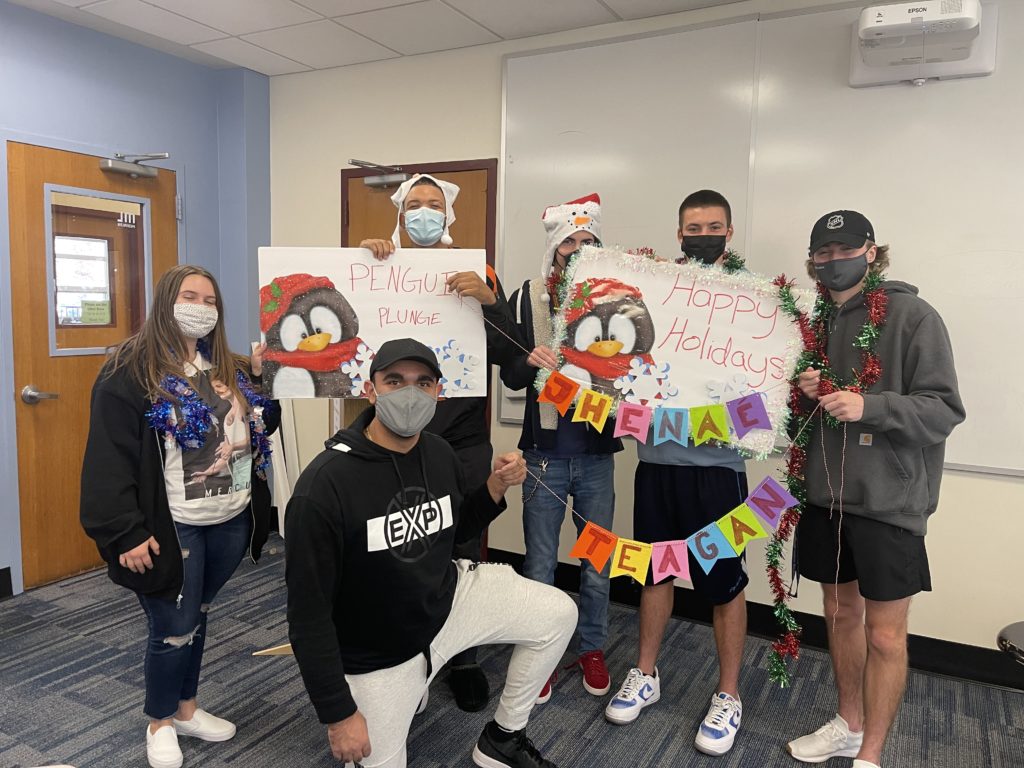 St. Thomas Aquinas Students to Host Holiday Car Parade on December 5 to Support the Penguin Plunge and Seriously Ill Rockland Children.
St. Thomas Aquinas College Communication students will lead a police-escorted "Happy Fleet" car parade from the STAC parking lot to 7 Gary Lane in Orangeburg NY, on Sunday, December 5, at 1:00 PM to raise awareness for the not-for-profit Penguin Plunge of Nyack, as part of a semester-long public relations service-learning project. "We are so impressed by the work these students have produced over the last couple months," says Barbara Noyes, Executive Director, and founder of Penguin Plunge. "We love their enthusiasm and dedication and already see many positive results of their efforts to raise awareness for our organization and this year's ill children, 5-year-old Teagan Walsh and 2-year-old Jhenaé Fairclough."
STAC students are working with the Penguin Plunge to support this year's two "penguins" (recipients) of the organization's fundraising efforts. "We are so thankful for the support of the Penguin Plunge and continue to hope for a cure for our beloved daughter," states Jessica Walsh, mother of Teagan Walsh. Walsh was diagnosed with high-risk neuroblastoma in July 2018 at just two years old. "Because of the Penguin Plunge, my family now has hope that Jhenaé will continue to get the care she needs." says Kirk Fairclough, whose daughter has been facing a tough battle since a few days after her first birthday when she was diagnosed with a rare form of childhood cancer called rhabdomyosarcoma. "We are so thankful for this precious gift of charity."
The "Happy Fleet" is open to all and will convene in the St. Thomas Aquinas College parking lot behind the Lougheed Library at 1:00 PM for car decorating. The fleet will depart and travel with police escort to 7 Gary Lane, in Orangeburg NY, home of Teagan Walsh. "I'm so happy to have the opportunity to participate in this event and put smiles on the faces of these sick children with my ice-cream!" states Marci Ruanova, owner of The Coney Express Ice Cream Truck. Ruanova will provide free ice cream for the children. The "Happy Fleet" will come to a stop at the Walsh home where STAC students dressed as penguins, Santa, and elves will sing and dance and present Walsh and Fairclough with holiday gifts.
Since September, STAC communication arts students have created social platforms, designed engaging content, developed a comprehensive public relations and digital marking plan, and organized promotional events intending to build awareness for the Penguin Plunge. Communication Arts Professor Elaine Winship leads students through similar projects every semester. "Service learning allows students to build marketable skills and gain real world experience, while supporting not-for-profit organizations within the community," she explains. "The immersive aspects are intense, preparing students for future internships and employment opportunities." By focusing heavily on video and social platforms, the STAC students have considerably increased Penguin Plunge's Instagram content in little more than a month. The "Happy Fleet" parade is the culminating event of the semester. Communication Arts senior, Michael Parrot adds, "This service-learning project has allowed me to build my PR skills and bolster my resume while giving back. It's a win-win all around and I'm grateful for the experience."
For more information, please contact Elaine Winship, 914.419.0241 or ewinship@stac.edu.
St. Thomas Aquinas College is an independent liberal arts college located on 72 acres in Rockland County, NY, which provides education at the undergraduate and graduate levels. The College's approximately 2,000 full and part-time students can choose from more than 100 different majors, minors, specializations, and dual-degree programs across four Schools: Arts & Social Sciences, Business, Education, and STEM. The College is recognized by U.S. News & World Report in the Top-Tier for Regional Universities, by Colleges of Distinction in both its New York and Catholic editions, by Affordable Colleges Online as a top College in New York for Return on Investment, and is included as a Military Friendly School®. St. Thomas Aquinas College is accredited by the Middle States Association of Colleges and Schools; its School of Education is a candidate for accreditation by the Association for Advancing Quality in Educator Preparation (AAQEP), and its School of Business is accredited by the International Accreditation Council for Business Education (IACBE). For more information, visit www.stac.edu.
About Penguin Plunge Inc.
Penguin Plunge Inc. is a nonprofit organization that helps the families of three seriously ill local children each year to meet their medical and support costs as they focus on their children's health. The organization was started in 2008 by Barbra Noyes and Mike Lynch, and has raised over $600,000 for their sponsored children over the course of the past fourteen years. The Penguin Plunge is their main annual event that gives people the opportunity to take a memorable dip into the icy waters of the Hudson while raising money for a good cause; however, the organization also holds a variety of events in area restaurants, businesses, and schools to bolster fundraising efforts. To learn more about Penguin Plunge Inc., visit their website at https://www.penguinplungeny.com/
About The Coney Express
The Coney Express is an Ice Truck that serves as a mobile retail outlet for ice cream. They sell prepackaged ice cream throughout the neighborhood and during events such as birthdays, block parties, fundraisers, school events, weddings, etc. The Coney Express is run by local mom, Marci Ruanova, who always dreamed of owning an Ice Cream truck. Ruanova's favorite part of her work is seeing children smile when they see The Coney Express coming. Contact The Coney Express at 347.674.4421 / TheConeyExpress5@gmail.com / Facebook: The Coney Express / Instagram: @the.coney.express