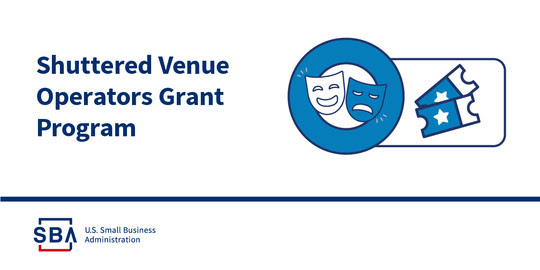 We heard you.
We heard you and we are taking action. In response to stakeholder feedback about reopening the Shuttered Venue Operators Grant application this weekend, the application portal will now reopen on Monday, April 26 at 12 p.m. EDT.
It is our top priority to deliver on the promise and commitment to provide economic lifelines to you ASAP. Yet, we understand the challenges a weekend opening would bring and to ensure the greatest number of businesses can apply for these funds, we decided to reschedule. We remain committed to delivering economic aid to you quickly and efficiently.
How to Prepare.
In preparation for the opening, potential applicants should register on the portal in advance. Applicants will also need a smartphone and a multi-factor authenticator app to register and apply.
The SBA has also added the following updated resources.
Applicant user guide and FAQ: For help with the application process, refer to the applicant user guide and FAQ.
Checklist: Use the checklist to make sure you have everything you need to complete your application.
Call Center: For Shuttered Venue Operators Grant application portal technical assistance such as a password reset, browser suggestions, or how to use the multi-factor authentication with an app and the QR code, applicants can call 1-800-659-2955 or, for the deaf and hard-of-hearing 1-800-877-8339 and follow the prompts to SVOG assistance. The call center is open through the weekend from 8 a.m. to 8 p.m. EDT. For additional information and to review applicant resources, visit www.sba.gov/svogrant.
Need additional assistance?
SBA's resource partners, including SCORE business mentors, Small Business Development Centers, Women's Business Centers and Veterans Business Outreach Centers, are available to provide individual guidance on applications.