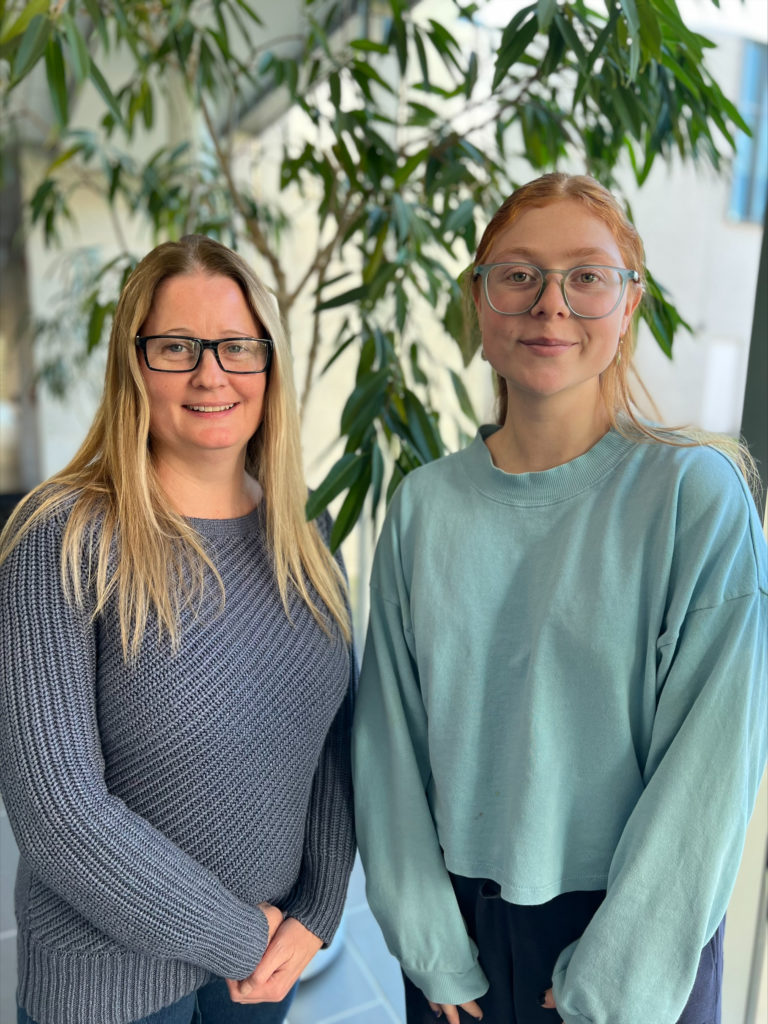 Suffern, NY (January 18, 2023) — Rockland Community College's Art Department is making waves in the SUNY community as six of their students' exceptional artwork has been selected for the prestigious Best of SUNY Student Art Exhibition. This juried show, which receives submissions from all SUNY art programs, serves as a showcase of the most talented student work across the SUNY system.
Among the chosen students is Chris Raetz, a 36-year-old adult learner and Nyack resident, whose passion for graphic design has been nurtured and guided by his professor, Eileen MacAvery-Kane, produced a thought-provoking, captivating piece that, along with his peers' artwork, will be hanging in SUNY headquarters for all of 2023.
"I took Professor MacAvery-Kane's Constructed Image class, which taught me how to use the Adobe Creative Suite on a professional level, and sharpened my skills with creative tools to create art using technology," said Raetz. "Professor MacAvery-Kane also advocates for her students by sharing job opportunities, submitting students' art to contests and exhibitions, advising and much more, which is very motivational."
Chris was one of several students at Rockland Community College hand selected to have their artwork printed, framed and delivered to SUNY Albany for a year-long exhibition. The exhibition will be installed this month, and will remain on display in SUNY Plaza, known as the SUNY administration headquarters, until November 2023. The exhibition will be open to the public Mondays through Fridays, 8am-4pm.
Raetz credits his success and passion to continue to pursue his dream even after graduation, to having opportunities like this.
"If it wasn't for Rockland Community College, I wouldn't be transferring to SUNY Purchase to major in Graphic Design and minor in Arts Management," said Raetz. "Opportunities like this one help me to dream and keep me on track as I aim to be the lead creative director at a major motion picture studio, and eventually have a studio of my own."
In the spring, winners are determined by an independent panel. Three students will be awarded 'Best of Show' and will receive a scholarship prize of $1,000, and four students will be awarded 'Honorable Mention' and will receive $500.
The six students whose artwork will be displayed at the H.Carl McCall Building in Albany are:
Christopher Raetz – "Inner Landscape"
Ernest Marcorde – "Portal to Inner Landscape"
Camilla Perea-Perdomo – "Road to Repercussion"
Gabrielle Gregory – "Into Music Wonderland"
Alexa Hart – "Markeven"
Zoe Devlin – "Floating in Purple Peace"
Raetz and his fellow students were guided by Rockland Community College Professor Eileen MacAvery-Kane. The Graphic Design professor helped each student fine-tune their projects to be submission ready, and she is proud that her students are getting recognized for their achievements.
"We are over the moon to see six of our students being celebrated at the SUNY Headquarters," said Professor MacAvery-Kane. "We have certainly been fortunate to have had many submissions accepted these last few semesters." Professor MacAvery-Kane's work, "Magic Rocks," was also selected for the 2022-2023 exhibition, The Peace of Wild Things, at the SUNY Rockefeller Institute in Albany.
This is one of many examples of Rockland Community College creating opportunities for students to take their classroom learning to the next level by helping students produce portfolio-ready work.
Raetz works on the Rockland Community College Street Team, a student work opportunity that produces digital marketing content, and contributed on a project that recently received local recognition for collaborative work to create the branding, logo design and creative toolkit for the new, Rockland-based, commercial real estate company, Nova North Commercial.
"During my time at RCC I redesigned the Campus Map, created a logo and brand kit for a local commercial real estate company, designed a photo mosaic mural in the main lecture hall using photos from RCC's history, created flyers, banners, and other marketing collateral for social media, campus events, clubs and activities," said Raetz. "These projects involve meetings, deadlines, preparation, research and everything needed to be successful in the real world."