FORT MONTGOMERY, NY – In a swift response to the extensive damage caused by torrential rains in early July, the Popolopen Bridge over Route 9W in Fort Montgomery was reopened on Friday, less than four weeks after the storms.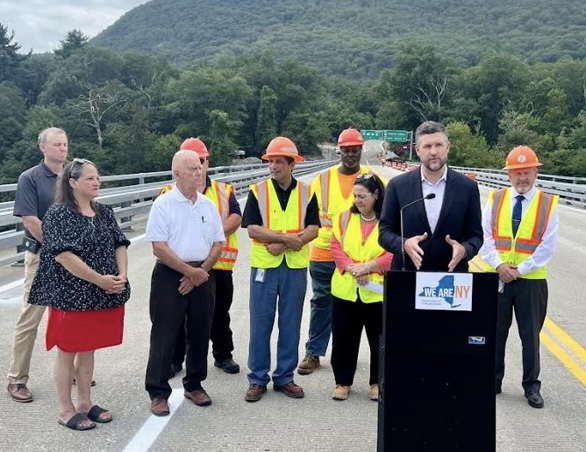 The destruction to the bridge caused significant disruptions to traffic, local businesses, and hampered the efficiency of first responders. State transportation department engineers and contractors designed and built a new support system for the structure, using a geosynthetic reinforced fill-type retaining wall system to stabilize the soil and provide a stable foundation for the bridge.
This essential link, connecting the roadway to the Bear Mountain Bridge Circle, allows access between West Point and the Bear Mountain Bridge. Governor Kathy Hochul praised the speedy restoration, emphasizing that the bridge's reopening "will make travel easier between West Point and destinations to the south… in record time and long before tens of thousands of travelers arrive to see our Army Black Knights begin their season."
Congressman Pat Ryan (D, NY-18) and State Senator James Skoufis (D, Cornwall) also expressed their commendation for the quick response and recovery efforts, with Skoufis expressing confidence "that our communities will come back stronger as the recovery effort proceeds in earnest."
In addition to the Popolopen Bridge, state crews and contractors worked diligently to repair and reopen several other storm-damaged roads in Orange, Rockland, Westchester, and Dutchess counties. Roads restored include sections of U.S. Route 9W, State Route 32, Palisades Parkway, and various others, enhancing regional connectivity and easing the burden on travelers throughout the Lower Hudson Valley.