Experience live local theater at the Penguin, starting on October 30 with Neil Berg's Broadway's Back! Other highlights of the fall season include tributes to Tony Bennett and Carole King.
ROCKLAND, NY (November 22, 2021) — Celebrate the reopening of Broadway—without leaving your own backyard—with The Penguin Rep Theatre. We're pleased to announce our Fall 2021 lineup of musical events, returning to the live stage at the Penguin Rep Theatre, 7 Crickettown Road, in Stony Point, New York.
These last two shows of the season (The other three sold out):

Experience the Yacouba Sissoko Trio on Saturday, November 27 at 2 pm. "It is a thrill to present Yacouba Sissoko, a master player of the magical string instrument, the kora, and his trio," says Brancato, "as they bring alive the vibrant music of West Africa." Descended from generations of djelys, the traditional musicians and storytellers of Mali, Sissoko incorporates a variety of musical influences into his repertoire and, according to Brancato, "opens to the door to a unique musical experience."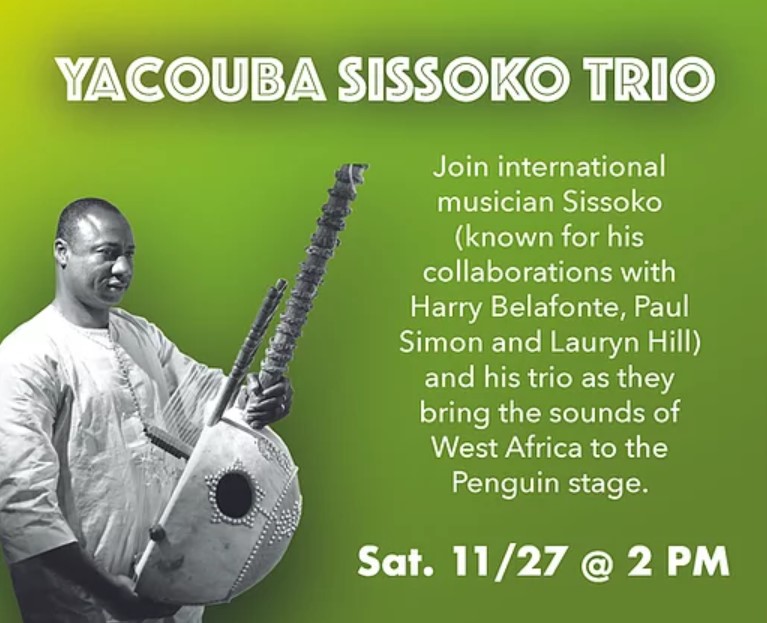 To close out the season, be sure to catch A Very Cocomama Holiday Celebration on Saturday, December 4, at 7 pm. "After the past year, we are ready to celebrate a joyous holiday season and the Cocomama band will have you dancing in the aisles with their irresistible renditions of holiday favorites in their incomparable style," says Brancato. Expect traditional holiday songs with an irresistible Latin twist.
Penguin's fall season is made possible with support from Bernard and Anne Spitzer Charitable Trust, GMG Public Relations, New York State Council on the Arts, Orange and Rockland Utilities, Rockland County Tourism, The Shubert Foundation, Town of Stony Point, and Wright Bros. Real Estate.
For tickets, contact the Box Office at 845-786-2873 or visit us online at www.penguinrep.org.