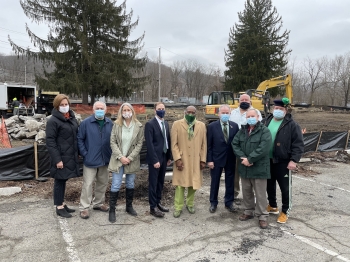 New City, NY, – Rockland County Executive Ed Day and Economic Development Director Jeremy L. Schulman today announced groundbreaking for the Sloatsburg Gateway Park project, which received a $249,000 grant under the United States Department of Agriculture's (USDA) Rural Business Development Grant Program. The federal funding will be used to rehabilitate a vacant parking lot into a beautified modern-rustic plaza at the doorstep of the Sloatsburg Train Station and will provide direct connections to businesses along the Main Street/Route 17 corridor and help to propel the village's ongoing revitalization efforts.
"Today is a great day for Rockland County as we celebrate the highly anticipated groundbreaking for the Sloatsburg Gateway Park," said County Executive Day. "This project, initiated by my Economic Development Director Jeremy L. Schulman when he served as the President and CEO of the Rockland Economic Development Corporation (REDC), was a true collaboration between the County, former Mayor Carl Wright, the Sloatsburg Board of Trustees, the Sloatsburg Chamber of Commerce, and the Sloatsburg Downtown Revitalization Committee."
"Working together and finding innovative ways to move forward on projects like Gateway Park and our concurrent NYS DOT Complete Streets Program, which is progressing, will benefit small businesses, increase local investment and create jobs in the county," said Sloatsburg Mayor Peter Akey. "It is a credit to everyone's hard work that we have reached this juncture on an initiative valued at almost $400,000. We are looking forward to working with Precise Enterprises II of Wallkill, NY which was awarded the contract bid, and Related Companies which provided a financial match, to help us reach the finish line on an impactful project for the village, county and region."
"The idea that this area would be eligible with a grant from the U.S. Department of Agriculture is truly exceptional. We are thrilled and excited that this project has commenced and most appreciative of all the assistance we received from other agencies of government," stated former Mayor Sloatsburg Village Mayor Carl Wright.
"The most fulfilling part of this project was the way everyone came together so quickly to respond to this initiative," said Economic Development Director Jeremy L. Schulman. "I wish to congratulate former Mayor Wright on a storied career and credit him and his team including current Mayor Akey and Clerk Bollatto, for inviting me to present to the Village Board of Trustees, recognizing this opportunity and the urgency to see it through. I hope it serves as a model that can be replicated in other municipalities."
When the REDC first identified the grant, Rockland County was ineligible for funding, despite having similar census and geographical characteristics as adjacent qualified areas. After a successful lobbying effort by the REDC along with county and elected officials, the USDA deemed Rockland eligible. The western portion of Rockland was inserted into the grant program which included Sloatsburg because of its position as a premier gateway to and from the county and its potential to augment the momentum generated by the recent development of the Valley Rock Inn project. This milestone was further validated by the village being a recipient of the REDC's Gateway Award in 2018.
The USDA Rural Business Development Grant is designed to fund projects that benefit small and emerging businesses in rural areas. The Sloatsburg Gateway Park project will be an integral component of the village's transit-oriented development (TOD) redevelopment plans and will complement the Valley Rock Inn project in fashioning a one-of-a-kind tourist and corporate destination. The plan calls for the development of a vacant parking lot adjacent to the Village's Metro North/NJ Transit Train Station and will turn it into a passive park, increasing public parking significantly, and creating pathways and interpretive signage that will direct visitors to Sloatsburg's businesses.

The park will include decorative lighting, landscaping and amenities for residents, visitors, and tourists. The Sloatsburg Train Station is located on Mill Street immediately opposite of the property and readies availability of commuter parking which will encourage the use of public transportation and invite visitors to the village's downtown business district. A ribbon cutting is planned for early summer.