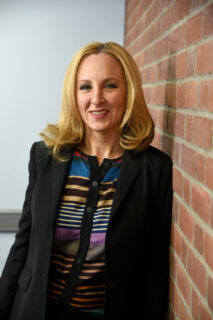 Dr. Carrie Brooke Wasserman
SUFFERN, N.Y. (October 16, 2023) – Good Samaritan Hospital, a valued member of the Westchester Medical Center Health Network (WMCHealth), proudly announces the appointment of Dr. Carrie Brook Wasserman, MD, as the Associate Director of the Bobbi Lewis Cancer Program.
Dr. Wasserman, a highly experienced hematologist/oncologist, is set to enhance oncology services at Good Samaritan Hospital. Mary P. Leahy, MD, MHA, CEO of Bon Secours Charity Health System/Good Samaritan Hospital, expressed confidence in her appointment, stating, "With her impressive credentials, she will make an impact on the care we offer to our patients."
Before joining Good Samaritan Hospital, Dr. Wasserman served as the Interim Chief of Hematology/Oncology at One Brooklyn Health (OBH), where she was also a core faculty member for the fellowship program. Her role extended to being the OBH site principal for several phase three clinical trials. Dr. Wasserman has held attending positions at Brooklyn Hospital Center, an affiliate of the Mt. Sinai Health System, and the John Theurer Cancer Center at Hackensack University Medical Center. Furthermore, she holds the position of Assistant Professor of Medicine at St. George's University of Medicine.
Dr. Wasserman's academic journey saw her earn her medical degree from St. George's University School of Medicine, following a Bachelor of Science degree from Cornell University. Her training involved an internal medicine residency at Lenox Hill Hospital/NYU School of Medicine and a hematology/oncology fellowship at St. Luke's Roosevelt/Columbia University College of Physicians and Surgeons. She is board-certified in internal medicine and medical oncology.
The Bobbi Lewis Cancer Program, accredited by the Commission on Cancer of the American College of Surgeons, is staffed by a team of dedicated, board-certified oncologists, surgeons, and radiologists. They provide compassionate care to patients in a comfortable and caring environment equipped with the latest medical technologies. The program specializes in various cancer types, including breast, lung, bladder, kidney, thyroid, prostate, head and neck, brain, lymphomas, myeloma, colorectal cancer, gastrointestinal tract cancers, gynecologic cancers, and melanoma. For breast cancer patients, the program offers genetic screening, counseling, and a support group.
Dr. Wasserman is now available to see new patients at Good Samaritan Hospital, located at 255 Lafayette Avenue in Suffern, N.Y. Appointments can be scheduled by calling 845.368.8500.
For more information about the cancer services offered by WMCHealth's Good Samaritan Hospital, visit GoodSamHosp.org/Cancer.