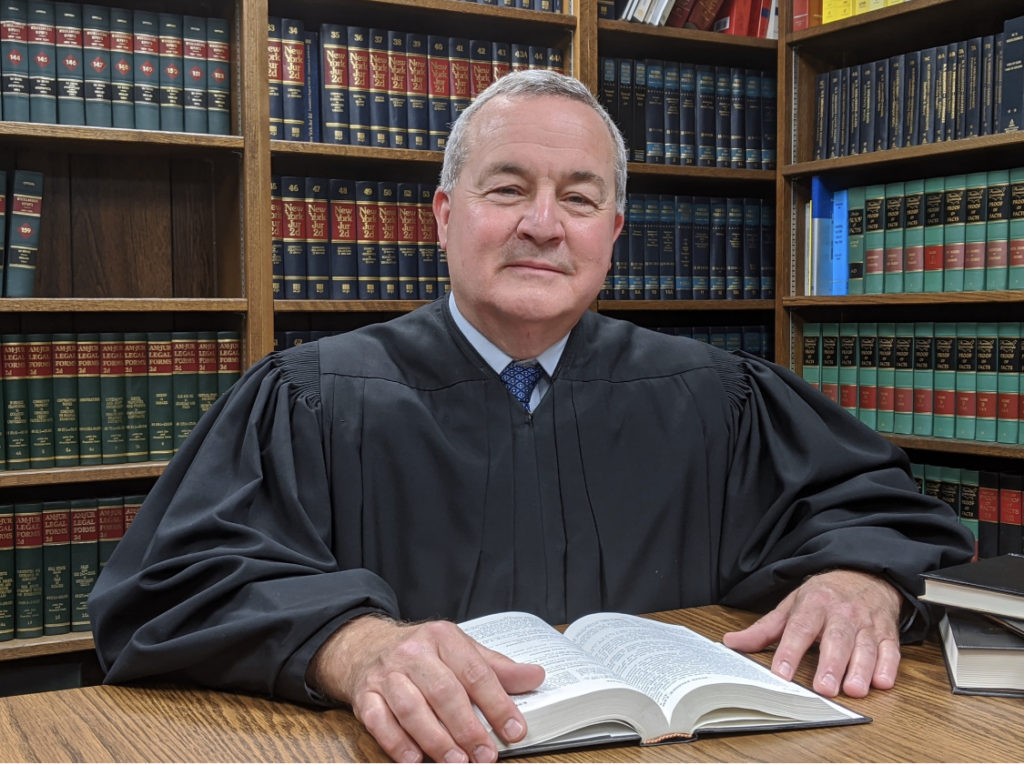 Middletown City Court Judge Richard J. Guertin is running for State Supreme Court Justice in
the 9th Judicial District, which includes Rockland, Orange, Dutchess, Putnam, and Westchester
counties. Judge Guertin attended elementary and high schools in Middletown, NY, graduated
from Orange County Community College, and, after spending a year working in Washington,
D.C. with then-Congressman Benjamin A. Gilman, finished his undergraduate work at Hamilton
College in upstate New York. After graduating from New York University Law School in 1981,
Judge Guertin spent two years in Los Angeles and Washington, D.C. working with Gibson,
Dunn & Crutcher, an international law firm. In 1983, former State Senator John J. Bonacic asked
Judge Guertin to return home and work in his law office. Since his decision to return to Orange
County in 1983, Judge Guertin has been committed to working with local municipalities and the
community to better the place he calls home.
Judge Guertin's legal career focused on the general practice of law in the greater Orange County
area, with a major focus on civil and municipal law. His extensive experience includes serving as
Corporation Counsel for the City of Middletown for many years as well as serving as a lawyer
for the Town Wawayanda, the Town of Wallkill, the Village of Otisville Planning Board and
ZBA, the City of Middletown Business Improvement District, the Thrall Public Library District
of Middletown & Wallkill, and the Monroe Free Library.

Prior to serving as a Judge for the Middletown City Court, Judge Guertin served as a private
arbitrator and mediator for various contract disputes as well as a hearing officer for the Orange
County Health Department and the Orange County Employment & Training Administration.
Since May 2018, Judge Guertin has served as a full time Middletown City Court Judge handling
civil and small claims cases, landlord/tenant disputes, traffic tickets, criminal cases, and
violations of City of Middletown codes and ordinances.

Aside from the law, Judge Guertin is an adjunct Associate Professor at Orange County
Community College, where he has been teaching Business Law for more than fourteen years. He
received the SUNY Chancellor's Award and SUNY Orange President's Award for Excellence in
Adjunct Teaching for the academic year 2015-2016, and he's also helped edit a number of texts
for the McGraw Hill publishing company.

Judge Guertin is married and has four adult children and three grandchildren. He serves as a
lector at St. Joseph's Church in Middletown and coached his children's soccer teams in the
Middletown Youth Soccer League. He also was a Committee Chairman and Assistant
Scoutmaster with Boy Scout Troop 273 in the Town of Wallkill.
When he's not busy with his judicial and teaching careers, Judge Guertin loves hiking the
Mohonk Preserve, the Middletown reservoir trails, and other local trails. Aside from hiking,
Judge Guertin enjoys gardening in his back yard and following the New York Yankees.
Both the Rockland County Bar Association and the Dutchess County Bar Association rated
Judge Guertin "highly qualified" for the position of State Supreme Court Justice.