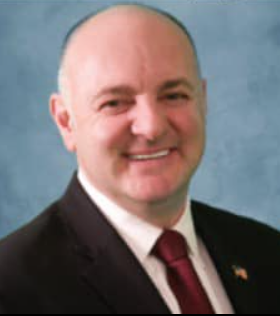 CLARKSTOWN, NY – Mike Graziano, a lifelong resident of Clarkstown, is campaigning for reelection, emphasizing his deep roots in the community and his commitment to its safety and affordability. In this wide-ranging interview, Graziano discussed his background, experience, and views on various issues affecting the Town of Clarkstown.
Graziano, who was born in Congers and baptized at the now-lost Saint Paul's old wooden church, has a personal history that spans back to a family trip to Italy in the mid-1960s and education at local schools, including St. Paul's and Clarkstown North.
Graziano's local engagement extends beyond his educational upbringing; he has been an active volunteer firefighter for 35 years, a role he cherishes as a means of contributing to the community's safety and well-being. His involvement with the fire department is a testament to his dedication to public service—a theme that is recurrent throughout his life and career.
As a father of four and a husband of 32 years, Graziano has not only been involved in his children's lives but has also taken an active role in community sports, coaching basketball and baseball for various local leagues. His initiative in starting the General's Baseball in New City highlights his leadership and commitment to youth sports and development.
During the COVID-19 pandemic, Graziano's service to the community took on an additional dimension as he volunteered to drive for the Congers/Valley Cottage Ambulance Corps. He describes this role as another form of giving back to the community that he holds dear.
In his political career, Graziano noted the influence and support of his family and constituents who encouraged him to run for office in 2019. He reflected on the fulfillment he derives from assisting community members and contributing positively to their lives.
Working alongside Supervisor George Hoehmann and other council members, Graziano expressed admiration for their dedication and the collective efforts to serve Clarkstown. He highlights the professionalism and excellence of the various departments within the town, from parks to human resources.
A key aspect of Graziano's political agenda is the preservation of Clarkstown's character, focusing on responsible planning and zoning to prevent overdevelopment. His aim is to maintain the integrity of both residential and commercial spaces, ensuring the town's future is in line with the values of its residents.
Councilman Graziano's re-election campaign is rooted in a narrative of lifelong service and an intimate connection with the community he serves, offering a blend of personal involvement, public service, and political action aimed at safeguarding the future of Clarkstown.
Graziano, is also advocating for a more user-friendly process in building and zoning to encourage young families to move into and enhance the community. His personal experiences in home building have informed his initiative to streamline the permitting process, which he believes has already seen positive outcomes with new homes being built and young families settling in.
A significant challenge for Graziano's efforts, if re-elected – is the burden of taxes in New York, one of the highest in the country. While acknowledging the difficulty in reducing taxes due to the extensive services provided by Clarkstown and rising costs such as fuel, his strategy focuses on minimizing tax increases while improving the quality and efficiency of services. He emphasizes the importance of delivering the best value for the residents' tax dollars.
Graziano, as a realist and a taxpayer himself, dismissed promises of tax reductions as unrealistic, instead committing to seeking ways to minimize tax hikes. He outlined specific areas of improvement, such as budgeting strategies to reduce overtime in various departments, exploring the shift from gas to electric power where feasible, and implementing solar energy to reduce electricity costs.
One innovative initiative Graziano mentioned is the prospect of drilling a well for the Highway Department to reduce the water expenditure during operations such as brine laying in the winter, which could significantly lower the town's water bills. He also suggested strategic cross-departmental deployment of workers to maximize efficiency and reduce costs.
On infrastructure, Graziano noted that while Clarkstown's infrastructure is in relatively good shape, there is always room for improvement. He plans to address any potential issues as part of his legislative responsibilities, ensuring that the infrastructure meets the needs of a growing and evolving community.
Mike Graziano"s attention to revitalizing aging facilities, such as the Central Nyack Community Center with a new roof and façade, illustrateed a proactive approach to facility maintenance. This effort extends to other buildings in Congers and the Empire Building in New City, aiming to preserve their utility and structural integrity.
Graziano emphasized the importance of telecommunications infrastructure, working with experts like Pat Watson to enhance services in a cost-effective manner. He recognizes the significance of reliable internet and network communications for town workers, viewing this as a vital component of modernizing town operations and reducing costs.
Addressing the expansive responsibility of maintaining the town's 300 miles of roads, Graziano credited the Superintendent of Highways Bob Milone and road inspector Robert Zembowski for their diligence in road maintenance and planning. He explained the town's strategic approach to repaving, which includes coordinating with utility companies like Orange and Rockland and Veolia to avoid redundant work that wastes fiscal resources. Graziano is practical about the timing of repaving, allowing the ground to settle after utility work to prevent future road damage.
Graziano outlineed a systematic plan for road maintenance, ensuring a set mileage of roads is repaved each year, which has led to noticeable improvements in areas such as Congers and Valley Cottage. He cited his push for new crosswalks and road paving in Central Nyack as evidence of his efforts to ensure safety and accessibility for residents.
In addition to his focus on infrastructure, Graziano prides himself on being accessible and responsive to all Clarkstown residents, embodying a hands-on approach to governance. Whether through emails or personal visits, he "remains engaged with the community, fostering a direct line of communication to address concerns such as water issues or road maintenance efficiently."
Councilman Mike Graziano emphasized the significance of business development for Clarkstown, advocating for commercial growth to increase the town's tax base. He recognizes the necessity of balancing business interests with environmental considerations, and he supports the expansion of existing businesses within their commercial rights, such as the development in Congers/Valley Cottage and the planned expansion of Intercos. Graziano notes that while traffic is a concern for residents, he believes the impact will be manageable and not as severe as some predict. He stressed the importance of working with the state for road improvements and permits, as many of these issues fall under state jurisdiction.
Graziano also touched upon his hands-on approach to problem-solving within the community, particularly with the state agencies and CSX, a transportation company. He has been directly involved in securing improvements to railroad crossings, which is crucial for public safety, especially considering the high volume of rail traffic in the Congers/Valley Cottage area. His stated that his experience as a first responder informs his proactive stance on rail safety, advocating for slower train speeds to mitigate the risks of potential derailments.
The councilman expressed concern over the CSX fires in April, which caused extensive damage. His personal connection to the event, with family property affected, underscoreed his commitment to addressing such issues. Graziano is actively seeking federal funding to manage the invasive water chestnut in Congers Lake, an environmental challenge that affects local waterways and requires substantial resources to control.
In discussing his role in managing the aftermath of the CSX-caused wildfire, Graziano highlighted the importance of his partnerships with state agencies and CSX to address the heavy rail traffic and the safety of his constituents. He reiterated his dedication to holding parties accountable and ensuring such incidents are managed and prevented in the future.
Councilman Graziano's narrative reflects his multifaceted role in managing both the economic development and the safety and environmental health of Clarkstown, showcasing a blend of advocacy, oversight, and direct action in his public service.
Graziano, in his discussion about education, underscored the high priority he places on quality education in Clarkstown. He drew a clear distinction between school taxes and town taxes, emphasizing his expectation that the high school taxes should translate into top-tier facilities and services for students and educators. With a personal connection to the education system through his daughter, a teacher at Lakewood Elementary, Graziano stated he has firsthand insight into the needs of local schools.
He also pointed to cooperative programs between the town and the school district, like the DARE program, which has seen over 30,000 students graduate in 30 years, a statistic that underlines its success and acceptance by both parents and students. The presence of police officers in schools is another initiative Graziano supports, reflecting his commitment to safety and his high regard for the local police department.
When discussing the reasons why constituents should re-elect him, Graziano leaned on his track record, his support for police and family values, and his deep involvement in the community. He contrasts his platform with that of his opponent, highlighting differences in values and priorities, particularly in relation to the Black Lives Matter movement and policing policies.
Graziano expresses skepticism towards the Black Lives Matter movement, citing his opposition to defunding the police and suggesting that support for such measures indicates a lack of commitment to family and community values. He reflects on recent social unrest, attributing it to the movement, and positions himself as a candidate with a strong stance on community cohesion, safety, and traditional values, regardless of race or other markers that divide communities.
Councilman Mike Graziano continues to discuss his views on law enforcement and legislative reforms, expressing strong opposition to recent bail reform laws and the Clean Slate Act. He argues that such policies favor criminals over victims and lead to increased crime and a lack of respect for the law among youth. He expresses frustration with what he perceives as an overly lenient criminal justice system that allows offenders to be released too quickly, undermining community safety and values.
The councilman also addressed the issue of immigration, comparing current border policies unfavorably with the processes through which his own family members legally entered the United States in the past. He expresseed concern over resources being allocated to migrants at the expense of American veterans and citizens, advocating for prioritizing the needs of Americans first.
Finally, Graziano criticized federal spending priorities, questioning the allocation of funds abroad, such as to Ukraine, when there are needs within the United States that he feels are being neglected. He highlights a recent incident in Hawaii as an example of domestic issues that require attention and funding.