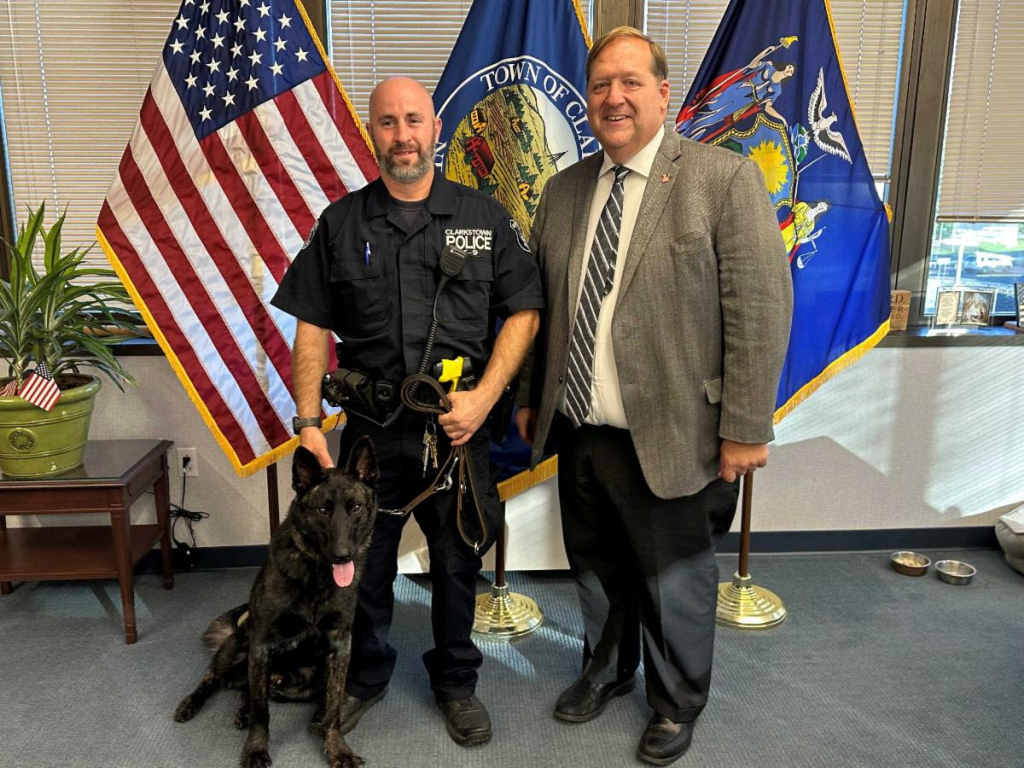 Photo Credit: Town of Clarkstown
New City, NY – A new four-legged addition to the Clarkstown Police Department (CPD) has garnered quite the attention. K-9 Shadow, along with Officer Drescher, recently paid a visit to Supervisor George Hoehmann in his office, marking a special moment for the department.
This dynamic duo, Officer Drescher and K9 Shadow, had an impressive start this year by graduating from the rigorous Orange County Sheriff's Office K-9 Academy. The academy is a demanding 17-week patrol K9 school where both the K9 and the officer undergo intensive training to learn to work seamlessly as a team.
The inclusion of K9 Shadow reinforces CPD's commitment to enhancing law enforcement capabilities to better serve the Clarkstown community. With K9 Shadow joining the ranks, CPD now boasts two K9 units, a valuable asset in various policing activities.
Supervisor George Hoehmann expressed his warm welcome to K9 Shadow, recognizing the dedication and hard work of Officer Drescher and his four-legged partner.
"Let's welcome K9 Shadow to the Clarkstown Police Department. Thank you to Officer Drescher and Shadow for your service!" said Supervisor Hoehmann.
K9 Shadow is expected to be an important part of the CPD's efforts to maintain safety and uphold the law, showcasing the value of these highly-trained K9 units in serving the community.
The Clarkstown community eagerly awaits the contributions of K9 Shadow and Officer Drescher as they continue to strengthen law enforcement in the area.