By Tom O., Business & Entertainment Reporter, RocklandNews.com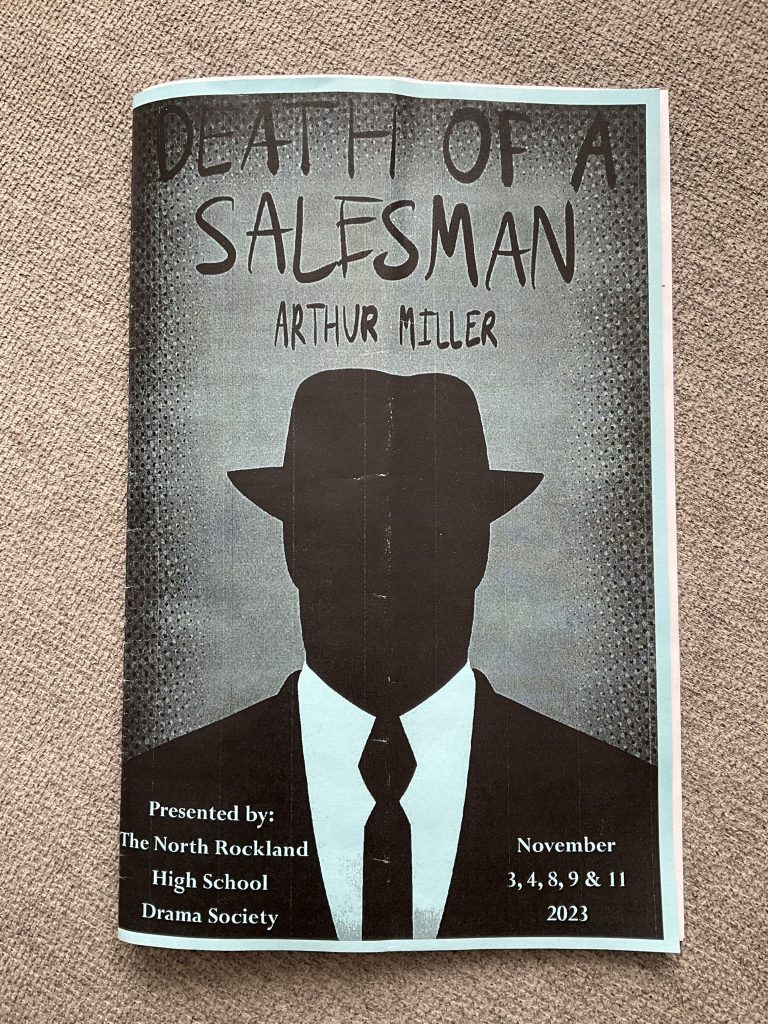 Note: To preserve student privacy, and safety, we have redacted the full last names of any individual mentioned in this article.
THIELLS, NY – On Saturday, November 11th, the North Rockland High School Drama Society delivered their final performance of Arthur Miller's classic play, "Death of a Salesman." The rendition showcased the many talents of its young actors, particularly those portraying the main characters, Willy Loman and Linda Loman.
In comparing this rendition to Arthur Miller's original 1949 stage play, it's commendable how the main actors embodied the complex ethos of their characters. The portrayals of Willy Loman and Linda Loman are difficult tasks for any actor/actress – but NRHS students Jordan B. and Jaylyn C.'s performance were exemplary ones, as well as many of the supporting cast members.
The protagonist – Willy Loman, is a traveling salesman grappling with his unfulfilled dreams and deteriorating mental state. His wife Linda Loman – supportive and longsuffering in her role as traditional homemaker – begins with kindness and subtlety, and concludes with heartbreaking, tragic, raw emotion that likely drove deep into many of the audience members.
Any performer in a primary role must be talented and highly confident in his/her acting abilities. Preparing to "become" Willy Loman requires the performer to stretch himself further. One must be able to subdue inner confidence for the sake of showcasing the many weaknesses of the Loman persona.
While Willy Loman may internally consider himself a charismatic, likeable, successful businessman for more than 30 years, the truth on display for the audience is the exact opposite. Throughout the two acts of the evening, Loman panders, uses slightly submissive open-handed gestures, humbly stutters at the beginning of nearly every sentence, and generally presents himself as more of a "pest" than a "success". He continually expects everyone around him – family, friends, business associates to change, yet does little to change himself. He occasionally lies and cheats, uses passive-aggressiveness to exert control over his sons and neighbors, and although expresses love and pride in his firstborn son, unconsciously sabatoges his career.
Loman also seemingly disregards the adoration of his second son, as well as pridefully rejects the help his neighbors attempt to provide, to course-correct his rapidly-downspiraling career.
Gradually through flashbacks, we find that these choices over the course of Willy's lifetime paint him further into a corner of pathetic inadequacy. It's meant to be uncomfortable and depressing to watch, and all was masterfully delivered by Jordan B., reminiscent of the merged character archetypes of Frank Gallagher (Shameless), Billy Gambini (My Cousin Vinny), and even a sorry version of George Bailey (It's a Wonderful Life).
Linda Loman, Willy's steadfast wife, was depicted with a balance of strength and compassion by Jaylyn C. Her portrayal flawlessly communicated Linda's unwavering support for Willy, despite the growing strains on their family and marriage. While Linda's role begins as loyal homemaker, Willy's gradual descent into mental and emotional wreckage leads Linda to spend the final 15 minutes of the play pleading, screaming and imploring family and friends to help Willy to conquer this worsening family crisis.
Jaylyn's final, bloodcurdling scream in the dark, in response to the news of Willy's fate – is one that must have left many an audience member in a state of emotionally tragic shock. One could compare the emotional depth of this moment to a scene in the Quentin Tarantino movie Kill Bill – Part 1, where the main character wakes from a long coma to learn that she has lost her baby. Jaylyn's scream marks the character Linda's final arc in the plot, one where the gradually rising desperation of Linda is ripped wide open, for the audience to empathize and share. In order to set up this shocking moment, many layers of kindess, gentleness, patience, self control needed to be strategically placed from the beginning of the performance.
The characters of Biff and Harold "Happy" Loman are delivered genuinely and enjoyably by Own and one other actor whose name is not listed in the playbill. The characters of Charley, Bernard, and Willy's deceased brother Ben each had compelling moments from its actors that kept the audience immersed in the story.
The production's set design, lighting, and costumes complemented the performances, creating an atmosphere that echoed the original play's setting in the late 1940s. The use of stage space and props effectively underscored the themes of entrapment and disillusionment central to Miller's work. The Performing Arts Parents Association also announced the winner of the raffle at intermission.
Overall, the North Rockland High School Drama Society's presentation of "Death of a Salesman" was a highly enjoyable performance. It not only showcased the talents of its young actors but also honored the spirit of Arthur Miller's classic work, making it accessible and emotional to the North Rockland community audience. The performance was a poignant reminder of the enduring power of Miller's play and the timeless themes it explores. Four stars.