AT A GLANCE
DELIVERING FOR YOU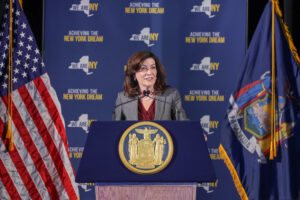 Governor Hochul Highlights Finger Lakes Investments as Part of FY 2024 Executive Budget
Governor Hochul Announces $234 Million in Additional Food Assistance for February:  
Governor  Hochul announced that all New Yorkers enrolled in the Supplemental Nutrition Assistance Program will receive a supplemental allotment of food benefits for February, including those already receiving the maximum allowable level. Issued monthly to help New Yorkers weather the economic fallout of the COVID-19 pandemic, the supplemental benefits will conclude after this month due to the changes prescribed by the Consolidated Appropriations Act of 2023, which was adopted by Congress late last year.
The emergency assistance supplement will be provided to all households receiving SNAP – a federally funded program overseen by the New York State Office of Temporary and Disability Assistance (OTDA) –and result in an infusion of $234 million in federal funding into New York's economy this month. All households, including those already receiving the maximum benefit for the household's size and households that formerly would have received a monthly supplement of less than $95, will receive a supplement of at least $95.
"In addition to SNAP, these monthly benefits have proven to be invaluable to hundreds of thousands of New Yorkers dealing with food insecurity throughout the pandemic," Governor Hochul said. "With these emergency supplemental benefits ending, we will continue to focus our efforts protecting New Yorkers who are struggling to feed themselves and their families by expanding eligibility and maximizing assistance through SNAP."
(Source: Governor Kathy Hochul's Pressroom)
Attorney General James Leads Multistate Coalition to Defend and Protect Access to Medication Abortion: New York Attorney General Letitia James led a multistate coalition to defend and protect safe access to medication abortion nationwide. In an amicus brief filed in Alliance of Hippocratic Medicine v. U.S. Food and Drug Administration (FDA), a case pending in the U.S. District Court for the Northern District of Texas, Attorney General James and the coalition of 22 attorneys general ask the court to reject a challenge brought by anti-abortion groups seeking to revoke the FDA's approval of the medication abortion drug, mifepristone. The brief warns that withdrawing federal approval for mifepristone would drastically reduce access to safe abortion care and miscarriage management for millions of people across the country, including in New York. A ban on mifepristone would affect states where abortion is legal, like New York. Attorney General James and the coalition are urging the court to reject this baseless attempt to undermine the FDA's authority, upend decades of medical practice, and disrupt the rule of law. 
"Blocking access to this safe and effective medication is a dangerous attack on reproductive freedom and public health," said Attorney General James. "Decades of medical and clinical research have proven that medication abortion is safe. Despite these facts and its widespread use, we know this is not a debate about science. Access to safe reproductive healthcare could be in jeopardy for millions of Americans because of a baseless lawsuit. We are taking action to protect the reproductive freedoms of people in every corner of the country, especially in vulnerable communities. Every time they try to chip away at our rights, we will rise up and fight back to protect access to safe abortion care."
In 2000, the FDA approved mifepristone as a single-dose oral medication used for early-term abortions. Since its approval, mifepristone has been safely used by approximately five million persons to terminate a pregnancy and is used in more than half of all abortions today. Decades of clinical research and studies have confirmed mifepristone's safety and efficacy.
(Source: Attorney General James Pressroom)
IN THE WORKS
Governor Hochul Announces Over $40 M Investment in Infrastructure, Including First NY Drinking Water Project Funded by Bipartisan Infrastructure Law: Governor Hochul announced $40.3 million in financial assistance for water infrastructure improvement projects, including the first drinking water project in New York State to receive infrastructure funding under the Bipartisan Infrastructure Law in Albany. The Environmental Facilities Corporation Board of Directors approved low-cost financing and previously announced grants, authorizing municipal access to the capital needed to get shovels in the ground for vital drinking water and sewer projects that reduce potential risks to public health and the environment.
The Albany Municipal Water Finance Authority will receive the first funding from the Bipartisan Infrastructure Law for drinking water infrastructure in New York State. Approved Bipartisan Infrastructure Law funding for the authority includes a $1.27 million grant and $1.83 million short-term interest free financing. This funding is in addition to a $3 million state water grant. The funding will be used to modernize aging infrastructure at three facilities in the Albany Water System, including the Feura Bush Filtration Plant, the Pine Bush Pump Station, and the Loudonville Reservoir.
The Board's approvals include financings through the Clean Water State Revolving Fund and Drinking Water State Revolving Fund, and grants already announced pursuant to the Water Infrastructure Improvement program. Funding for water infrastructure from the federal Bipartisan Infrastructure Law is administered by EFC through the State Revolving Fund programs. Governor Hochul announced funding for the first clean water infrastructure projects funded by the Bipartisan Infrastructure Law in November.
(Source: Governor Kathy Hochul's Pressroom)
Governor Hochul Announces Vermont Joins Multi-State Effort to Create a Regional Clean Hydrogen Hub: Governor Hochul announced Vermont has signed on to a multi-state agreement, joining with New York, Connecticut, Maine, Massachusetts, New Jersey and Rhode Island, to develop a proposal to become one of up to 10 regional clean hydrogen hubs designated through the federal Regional Clean Hydrogen Hubs program included in the bipartisan Infrastructure Investment and Jobs Act. The Northeast Clean Hydrogen Hub of seven states and more than 100 clean hydrogen ecosystem partners is moving forward to develop and submit a full proposal to the United States Department of Energy to compete for funding through the $8 billion program. The announcement advances each State's leadership in clean hydrogen infrastructure deployment and their respective climate commitments. Specifically for New York, this work supports the state's Climate Leadership and Community Protection Act goal to reduce greenhouse gas emissions 85 percent by 2050.
Northeast Clean Hydrogen Hub partners have committed to collaborate with the New York State Energy Research and Development Authority (NYSERDA), New York Power Authority (NYPA), and Empire State Development (ESD) on proposal development to advance clean hydrogen projects. Partnering states will also coordinate with their respective state entities to help align the collaborative's efforts with each state's climate and clean energy goals. These include Connecticut's Global Warming Solutions Act goal of reducing greenhouse gas emissions 80% by 2050, Massachusetts' goal of reaching net-zero carbon emissions by 2050, New Jersey's Global Warming Response Act goal of reducing greenhouse gas emissions 80% by 2050, Maine's statutory goals to achieve carbon neutrality by 2045 and reduce gross greenhouse gas emissions by at least 80% by 2050, Rhode Island's commitment to achieving 100% renewable electricity by 2033 and Vermont's Global Warming Solutions Act goal, which requires Vermont to reduce greenhouse gas pollution 80% below 1990 levels by 2050.
With the execution of these agreements, the partners will join those previously announced to further define a shared vision and framework for the regional clean hydrogen hub to ensure a connected hydrogen ecosystem across all partner states with quantifiable greenhouse gas emissions reductions. The Hub proposal will be developed with climate and environmental justice central to its strategy to deliver opportunities and improved quality of life to underserved areas across the region.
(Source: Governor Kathy Hochul's Pressroom)
NATIONAL
President Biden in Wisconsin during his post-State of the Union "blitz"
Biden, Cabinet visiting 20 states after State of the Union: President Joe Biden and his Cabinet will embark on a post-State of the Union "blitz" to at least 20 states next week to discuss his economic agenda after his Tuesday night address to Congress, the White House announced Friday.
Biden devoted much of his second State of the Union address to highlighting his efforts over the past two years to create jobs, fight inflation and improve the nation's infrastructure as he gears up for an expected run for reelection. After the speech, the president, vice president, and members of the Cabinet will hold over 30 events in two days to drive the message home to the American people in their communities.
On February 9th, the president traveled to Tampa, Florida, to talk about his efforts to lower prescription drug costs and protect Social Security and Medicare. Harris will highlight electric vehicle investments in St. Cloud, Minnesota. Energy Secretary Jennifer Granholm will visit Carson City, Nevada, to announce an investment in battery manufacturing and Transportation Secretary Pete Buttigieg will celebrate the award of a $150 million grant to replace a highway bridge in Lake Charles, Louisiana.
President Biden's Manufacturing Boom Continues with Massive New Private Sector Investments in American Manufacturing: This week, we're seeing more evidence that President Biden's economic agenda is working, with an American manufacturing boom happening across the country. This week alone Boeing announced one of the largest orders in the company's history supporting over a million new jobs in 44 states, Ford announced a new $3.5 billion factory in Michigan, and Texas Instruments announced plans to build an $11 billion semiconductor plant in Utah.
The White House releases fact sheet highlighting how  New York is benefiting from the American Job Plan:
ROADS AND BRIDGES: In New York there are 1,702 bridges and over 7,292 miles of highway in poor condition. Since 2011, commute times have increased by 7.4% in New York and on average, each driver pays $625 per year in costs due to driving on roads in need of repair. The American Jobs Plan will devote more than $600 billion to transform our nations' transportation infrastructure and make it more resilient, including $115 billion repairing roads and bridges.
PUBLIC TRANSPORTATION: New Yorkers who take public transportation spend an extra 58.9% of their time commuting and non-White households are 2.5 times more likely to commute via public transportation. 11% of trains and other transit vehicles in the state are past useful life. The American Jobs Plan will modernize public transit with an $85 billion investment.
RESILIENT INFRASTRUCTURE: From 2010 to 2020, New York has experienced 31 extreme weather events, costing the state up to $100 billion in damages. The President is calling for $50 billion to improve the resiliency of our infrastructure and support communities' recovery from disaster.
DRINKING WATER: Over the next 20 years, New York's drinking water infrastructure will require $22.8 billion in additional funding. The American Jobs Plan includes a $111 billion investment to ensure clean, safe drinking water is a right in all communities.
HOUSING: In part due to a lack of available and affordable housing, 1.7 million renters in New York are rent burdened, meaning they spend more than 30% of their income on rent. The President proposes investing over $200 billion to increase housing supply and address the affordable housing crisis.
BROADBAND: 31.4% of New Yorkers live in areas where there is only one broadband internet provider providing minimally acceptable speeds. Even where infrastructure is available, broadband may be too expensive to be within reach. 13% of New York households do not have an internet subscription. The American Jobs Plan will invest $100 billion to bring universal, reliable, high-speed, and affordable coverage to every family in America.
CAREGIVING: Across the country, hundreds of thousands of older adults and people with disabilities are in need of home and community-based services. The President's plan will invest $400 billion to help more people access care and improve the quality of caregiving jobs.
CHILD CARE: In New York, there is an estimated $2.91 billion gap in what schools need to do maintenance and make improvements and 64% of residents live in a childcare desert. The American Jobs Plan will modernize our nation's schools and early learning facilities and build new ones in neighborhoods across New York and the country.
MANUFACTURING: Manufacturers account for more than 4% of total output in New York, employing 441,000 workers, or 4.5% of the state's workforce. The American Job's Plan will invest $300 billion to retool and revitalize American manufacturers, including providing incentives for manufacturers to invest in innovative energy projects.
HOME ENERGY: In New York, an average low-income family spends 6-8% of their income on home energy costs forcing tough choices between paying energy bills and buying food, medicine or other essentials. The American Jobs Plan will upgrade low-income homes to make them more energy efficient through a historic investment in the Weatherization Assistance Program, a new Clean Energy and Sustainability Accelerator to finance building improvements, and expanded tax credits to support home energy upgrades.
CLEAN ENERGY JOBS: As of 2019, there were 159,337 New Yorkers working in clean energy, and the American Jobs Plan invests in creating more good paying union jobs advancing clean energy production by extending and expanding tax credits for clean energy generation, carbon capture and sequestration and clean energy manufacturing.
VETERANS HEALTH: New York is home to over 700,000 veterans, 7.5% of whom are women and 54% of whom are over the age of 65. The President is calling for $18 billion to improve the infrastructure of VA health care facilities to ensure the delivery of world-class, state of the art care to veterans enrolled in the VA health care system. This includes improvements to ensure appropriate care for women and older veterans
(Source The White House AJP Fact Sheet NY)
EVENTS
February 16th, 7:00pm: Albany County Democratic Committee Meeting
Capital District Celtic Hall, 430 New Karner Road, Albany, New York 12205
Febuary 17th-19th: NYSABPRHAL 52nd Annual Conference in Albany
February 23rd, 5:30pm: ECDC's Annual Chairman's Council Reception
Eckl's at Larkin, 703 Seneca St., Buffalo NY 14210
If you would like to share your event with us, email us at info@nydems.org