Website details terms for purchase of Patriot Hills Golf Club from Town of Stony Point
Patriot Hills LLC has launched a new website, www.MovingStonyPointForward.com, to detail the recent negotiations that have been conducted with the Town of Stony Point, for the purchase of the Patriot Hills Golf Club, as well as the surrounding property, for $6.4 million.
From the website: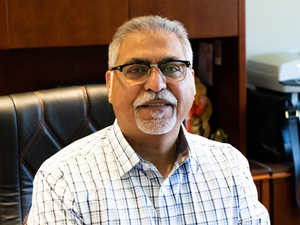 After three plus years of complex negotiations, Stony Point Supervisor Jim Monaghan and the Town Board approved an agreement to sell the Patriot Hills Golf Club and surrounding Letchworth Village property to Patriot Hills Park, LLC for $6.4 million. Patriot Hills Park, LLC is owned by developer Raja R. Amar, along with two business partners, Brion Hayman, a Stony Point resident and longtime business partner Lawrence D. Melchionda.
Mr. Amar, a longtime resident of Stony Point, is committed to moving Stony Point forward and wants to preserve it for future generations to live, work, and raise their families.
Under the sale, Mr. Amar will invest in and upgrade the golf course, keeping it open to all Stony Point residents and their guests, including providing free rounds for active riding Stony Point Volunteer Fire and Ambulance Members.
In addition, he will construct a brand new community center for the Town of Stony Point and renovate Kirkbride Hall, leasing it back to the Town for $1 a year for sports and community events.
Finally, Mr. Amar will remediate and remove the old Letchworth buildings, cleaning up the hazardous waste and asbestos that has plagued the property for years.
Voters in Stony Point can ratify the agreement by voting YES on proposition 7 on the back of their ballot.
There are three ways to vote: by absentee ballot, during Early Voting (October 23-31, 2021), or on Election Day (November 2, 2021).
TERMS OF THE AGREEMENT
$6.4 MILLION AT CLOSING
$3 MILLION CASH
$3.4 MILLION PERFORMANCE BOND FOR DESIGN AND CONSTRUCTION OF NEW STONY POINT COMMUNITY CENTER
$6 MILLION IN COSTS ELIMINATED FOR REMEDIATION AND REMOVAL OF OLD LETCHWORTH BUILDINGS, WHICH HAVE POSED A HAZARDOUS HEALTH RISK TO RESIDENTS FOR DECADES
RENOVATION OF KIRKBRIDE HALL FOR STONY POINT RECREATIONAL USE
GOLF COURSE WILL REMAIN OPEN TO RESIDENTS AND THEIR GUESTS
FREE ROUNDS FOR ACTIVE RIDING STONY POINT VOLUNTEER FIRE & AMBULANCE MEMBERS
SAVINGS FOR TAXPAYERS
$6.6 MILLION IN SAVINGS FOR GOLF COURSE OPERATIONS AND CAPITAL IMPROVEMENTS OVER 5 YEARS
$800K + IN SAVINGS FOR MAINTENANCE OF LETCHWORTH BUILDINGS OVER 5 YEARS
$6 MILLION IN COSTS ELIMINATED FOR REMEDIATION AND REMOVAL OF OLD LETCHWORTH BUILDINGS
SALE INCLUDES RENOVATION OF KIRKBRIDE HALL FOR TOWN RECREATIONAL USE