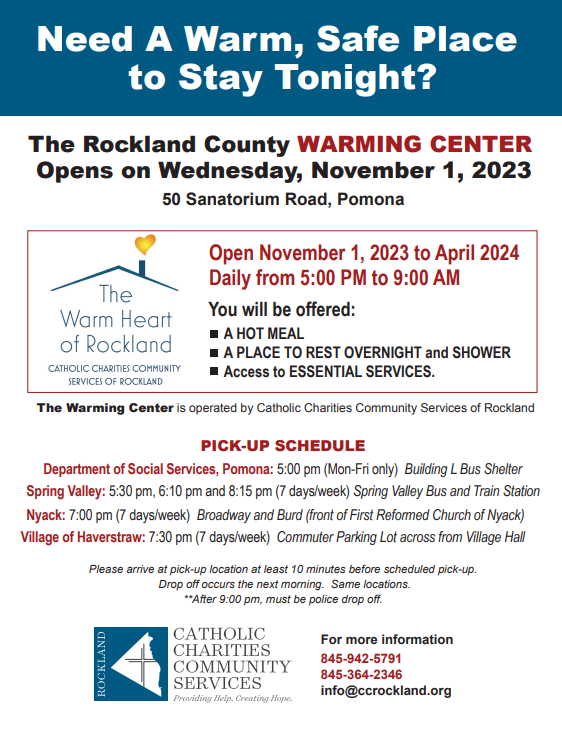 NEW CITY, NY – Rockland County Executive Ed Day, alongside Commissioner of Social Services Joan Silvestri, has announced the commencement of operations for the Rockland County Warming Center. Once again, Catholic Charities has partnered with the county to operate the center, providing shelter and support for up to 75 homeless single adults at the Dr. Robert L. Yeager Health Center in Pomona.
The Warming Center, a critical resource for the county's homeless population, will be in operation from November 1, 2023, through April 2024. It ensures that individuals without homes have access to a warm and safe place to stay during the frigid winter months. The center opens each night, regardless of the temperature, and remains accessible during the daytime when temperatures drop to 32 degrees or below, accounting for wind chill.
County Executive Day expressed his pride in the collaborative effort between the county and Catholic Charities, stating, "This Warming Center will continue to help our most vulnerable residents in Rockland remain warm and safe. Guests are offered a warm place to rest, showers, and laundry services, with staff available to assist with benefits and referrals."
The Rockland County Warming Center will officially open its doors on Monday, November 1, 2023, starting at 5 p.m. Transportation to the center is provided at specific locations and times:
Nyack at 7:00 p.m. at Broadway and Burd in front of the First Reformed Church of Nyack.
Haverstraw at 7:30 p.m. from the Commuter Parking Lot across from Village Hall.
Spring Valley at 5:30 p.m., 6:10 p.m., and 8:15 p.m. at the Spring Valley Bus and Train Station.
Pomona at 5 p.m., Monday through Friday only, at the Building L Bus Shelter.
For additional information or assistance, contact 845-942-5791 or 845-364-2346.
Notably, the Rockland County Department of Social Services will continue to operate its Emergency Family Shelter, providing essential support for children and families in need.