The National Weather Service reports that the Sunday's storm system hit the Hudson Valley with as much as eight inches of rain in areas
This story is being updated as it develops.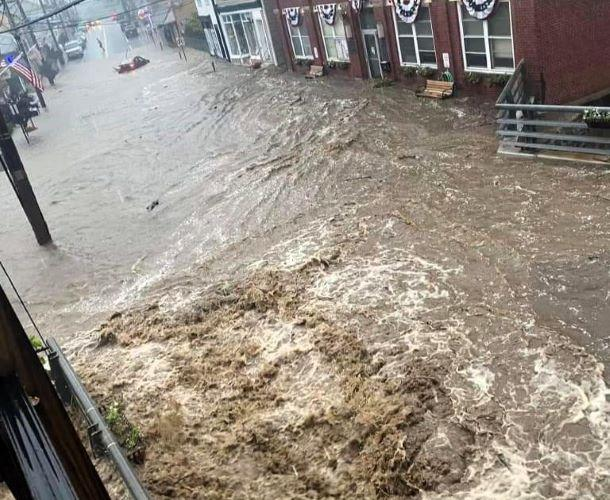 HIGHLAND FALLS, NY – A slow-moving storm system brought heavy rain across a wide section of New York State on Sunday evening, flooding streets, prompting dozens of rescues for drivers whose vehicles were stranded on inundated roads and causing at least one death, the authorities said.
The Hudson Valley was the most affected by the storm system on Sunday, with sections of the area getting between five and eight inches of rain, the National Weather Service said.
New York State Police stated "numerous roadways consisting of State Route 9W and Palisades Interstate Parkway are experiencing heavy flooding and washouts. The Palisades NB is closed from exit 14 to Long Mountain Traffic circle. Avoid The Area!!!"
The epicenter of the storm struck the Town of Highlands – home to West Point, the U.S. Military Academy – which had about eight inches of rain as of Sunday night. One person is confirmed dead after being swept away and drowned by the torrential waters. In Rockland's Stony Point, roads turned into rushing rivers in some places, and rescue personnel used a boat to evacuate residents of flooded homes. In Westchester's Yorktown, a state of emergency was declared on Monday due to damage including a sinkhole behind Town Hall, compromised culverts, boulders on roads, and washed-out roads.
Federal representatives, including U.S. Rep. Pat Ryan, U.S. Senate Majority Leader Charles E. Schumer, and Sen. Gillibrand, are seeking a major disaster declaration for the state from the Federal Emergency Management Agency (FEMA). This would enable state and local governments and nonprofits to access grants and assistance and reimburse certain repair costs.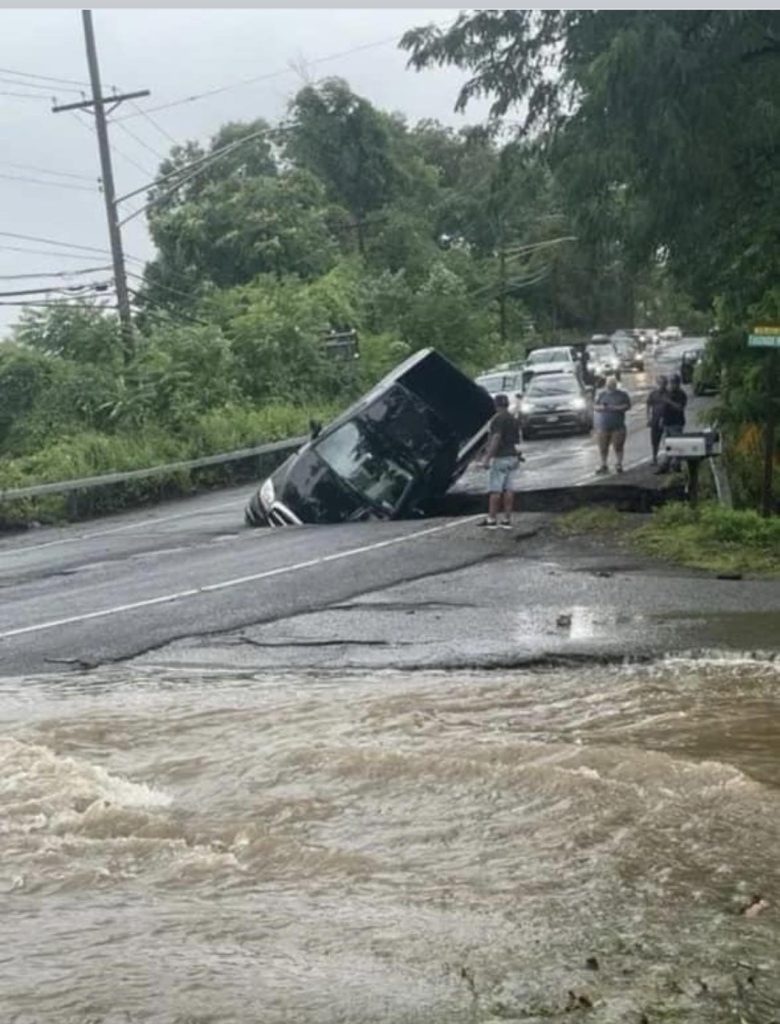 Steven M. Neuhaus, the executive of Orange County, confirmed that the flooding had resulted in one fatality. State Senator James Skoufis, representing Orange County, identified the victim as a woman in her 30s. However, neither official provided specific details regarding the cause or circumstances of her death."
As of Sunday evening, several other individuals remained missing. Trooper Steven V. Nevel of the New York State Police described the search-and-rescue efforts on Sunday night as an "all hands on deck" endeavor, saying that several bridges had collapsed and many roads were impassable.
Mr. Neuhaus said that there had been multiple calls for water rescues in the vicinity of West Point and Highland Falls, both of which are on the western shores of the Hudson River. Mr. Skoufis, who was in Orange County on Sunday evening, said that in Woodbury the two major arteries in and out of town were washed out. "If you're traveling within Orange County, good luck," the senator said. "Getting around is next to impossible right now."
County officials, police departments and other agencies were fielding dozens of emergency calls prompted by flooding that the Weather Service described as "life-threatening." Flash flood emergencies — which indicates not only that flooding is occurring, but that it is posing a severe threat to human life — were issued for stretches of the state. Flash flood warnings were also in effect for Manhattan, the Bronx, Queens, Westchester, Clinton and Franklin Counties on Sunday night.
Rockland wasn't spared either. Crews rescued a man by boat at a park near Lowland Hill Road in Stony Point. Officials said six hikers were also rescued at nearby Bear Mountain, including a child who was taken to the hospital with a head injury.
A flood watch was also in effect across New York City until 6 a.m. Monday. Michael Strauss, who lives in Rockland County, was driving home from Hunter Mountain when a heavy downpour began, with rain "pouring off the cliffs and across the roads." Mr. Strauss and his wife continued driving through the hazardous conditions, but around a mile north of the Bear Mountain Bridge on Route 9W, they got stuck. They tried various roads but came up against closures and flooding each time.
Sunday's flash flooding left motorists stranded along low-lying stretches of the Palisades Interstate Parkway, with troopers assisting dozens of people. State Police Spokesman Trooper Steven Nevel warned that road conditions could change rapidly due to residual flooding and debris.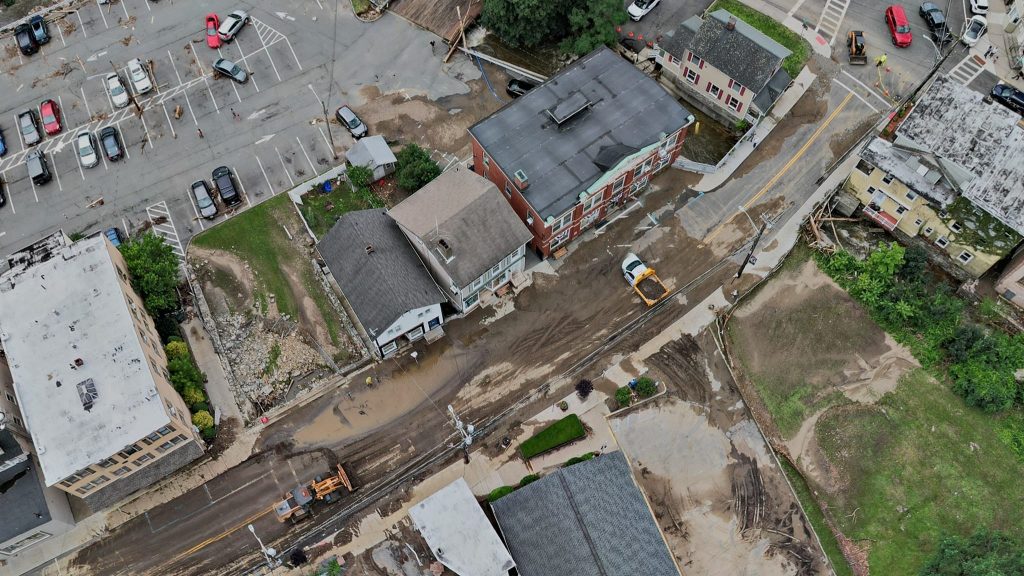 The storm also affected freight tracks, with about ten sites along the CSX track between Selkirk, New York, and New Jersey washed out. The freight line reported Monday that delays and reroutes are anticipated for at least 24 hours.
The National Weather Service warned of the possibility of more thunderstorms, patchy fog, and humidity in the region on Monday, with a diminishing chance of rain in the evening.
Metro-North reported that service on the Hudson Line was suspended between the Croton-Harmon station and Poughkeepsie due to the storm washing out tracks along the Hudson Line north of Croton-Harmon and on the Wassaic Branch. The MTA advised riders to consider traveling to the Croton-Harmon station or take Harlem Line service at alternative stations."