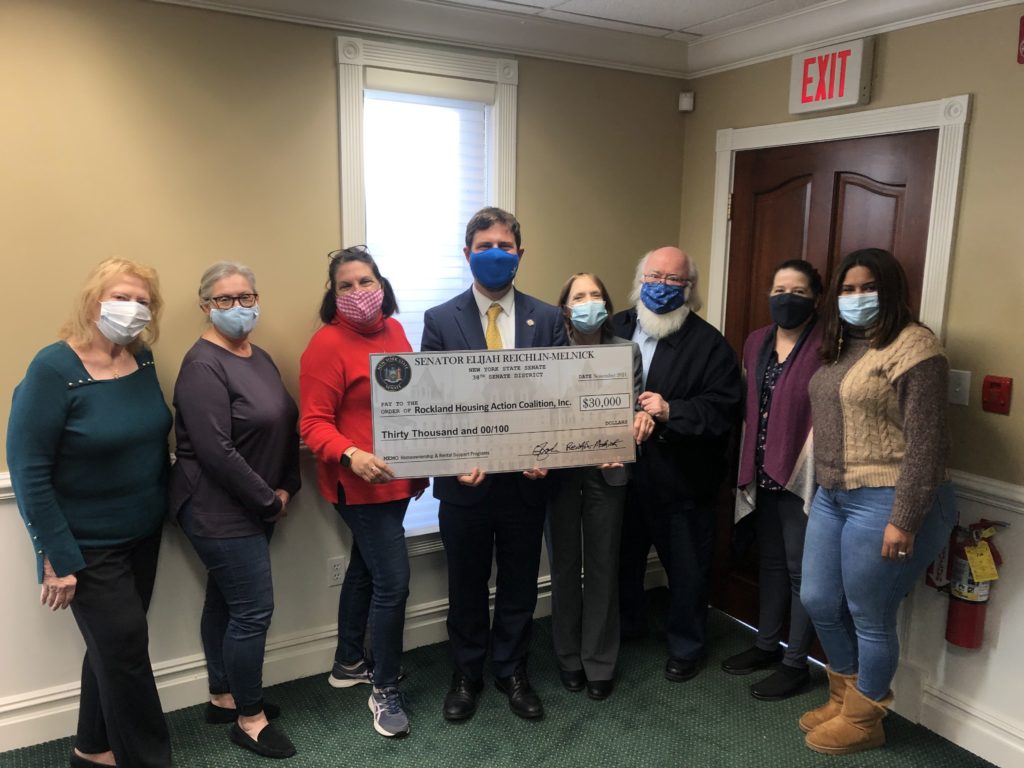 NEW CITY, NY – Senator Elijah Reichlin-Melnick presented a check for $30,000 in NY State funding to the Rockland Housing Action Coalition at the organization's offices in support of their work in Senate District 38. These funds will provide direct administrative support to RHAC for various efforts including the homeownership program, management of rental assistance, and identification of affordable housing units. Some of the funds may also be used for marketing and outreach for services such as foreclosure as federal protections on mortgage relief are set to expire in January.
State Senator Elijah Reichlin-Melnick (D-Rockland/Westchester) said, "The Rockland Housing Action Coalition is doing the important work of keeping some of the most vulnerable members of our community safely and equitably housed. When I went to Albany for my first legislative session this year, I knew I had to deliver for organizations like RHAC, which work hard to make sure our neighbors are safe and warm in affordable homes," Reichlin-Melnick continued. "I was proud to negotiate a $30,000 line item in the New York State Budget that will go directly to supporting RHAC so they can keep doing excellent work right here in our community."
Gerri Levy, Executive Director of the Rockland Housing Action Coalition, said "On behalf of the Rockland Housing Action Coalition, I thank Senator Reichlin-Melnick for supporting the Coalition's mission to help Rockland residents rent or purchase homes they can afford in this high cost area."
Senator Reichlin-Melnick was first elected in November of 2020 and is serving his first term as State Senator in the 38th District, representing Clarkstown, Orangetown, Ramapo, and Ossining.
Since 1986, the Rockland Housing Action Coalition, Inc. (RHAC) has made significant strides in providing cost-effective housing for income eligible families and active adults in Rockland County. The organization's success is based on the innovative partnerships they've created with local builders, lending institutions, government officials, grant providers, community based organizations and dedicated individuals who support the mission of providing cost-effective homes to middle income individuals and families. In recent years, RHAC has worked with the public and private sectors to develop rental housing for Rockland County's growing senior population.