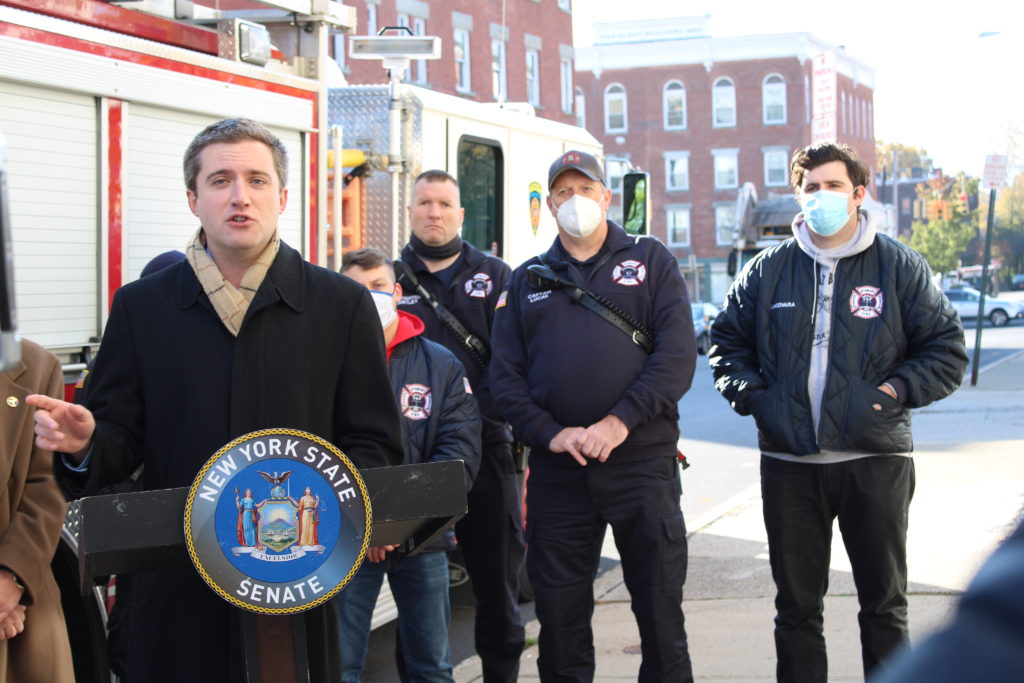 Senator James Skoufis (D-Hudson Valley) joined the New York State Division of Military & Naval Affairs (DMNA) and members of the Civil Service Employees Association to announce the signing of his disability legislation (S4408) into law, expanding disability benefits for DMNA firefighters statewide.
For too long, firefighters and training/safety officers employed by the DMNA have been denied adequate disability benefits when they've fallen ill as a result of their duties. This law increases their disability pensions from one-third of final average salary (FAS) to 50% of 75% of FAS, and helps individuals to establish the presumption that disabilities were incurred while discharging their duties. This law finally creates disability benefits parity with every other professional firefighter in New York State.
"There's no better way to honor the sacrifices of emergency personnel in our community than to make sure we answer the call when they're in need," said bill sponsor Senator Skoufis. "For many of these firefighters, their duties extend beyond the airport or the base to supply mutual aid to area fire companies, which is just one of many reasons why making sure they have comparable disability protections is a no-brainer. It was my privilege to be involved in moving this decade-long effort across the finish line and I thank the Governor for signing this important legislation into law."
"We appreciate the continued efforts of the Senate and Assembly members who've worked year after year to get this legislation passed," said CSEA Southern Region President Anthony M. Adamo. "Unlike her predecessors, Governor Hochul didn't hesitate to support this legislation that gives DMNA firefighters the same protections as their counterparts across the state."
"This legislation ensures that our small group of firefighters will receive the same disability benefits as our brothers and sisters from other departments across the state," added CSEA Hudson Valley DMNA Employees Local President Jason Bartley. "We are grateful that our state elected officials recognized that DMNA firefighters face the same dangers and risk factors as other firefighters and therefore deserve the same protections."
Senator Skoufis remains committed to supplying area emergency personnel with the tools and resources they need to perform their duties and keep residents safe.