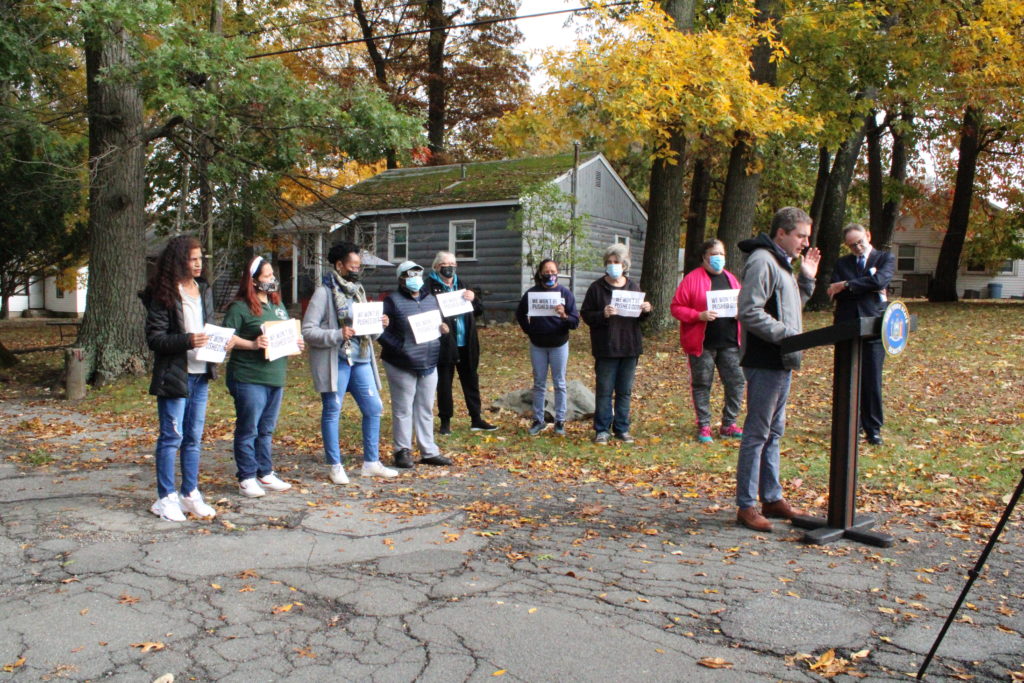 Senator James Skoufis (D-Hudson Valley) stood with residents of Garnerville's Oak Tree Apartments to demand the property's landlord, Alexander Property Holdings, drop their plan to evict all tenants by the end of November.
Alexander Property Holdings plans to demolish the existing bungalows and apartment buildings and rebuild the complex. In a letter issued at the end of the summer, tenants were told to vacate by November 30 regardless of their lease duration or status, in full violation of New York's extended eviction moratorium through January 15, 2022. For these residents, including many with young children, vacating now isn't just difficult; it's downright dangerous given the circumstances. Skoufis and Legal Aid Society of Rockland are teaming up with other agencies, including the Rockland County Department of Social Services and Haverstraw Center, to help tenants file Hardship Declaration Forms and gain access to other assistance that will aid them in securing safe, suitable alternative housing.
"It's one thing for a landlord to ask tenants to vacate so they can rebuild and reap the rewards; it's something else entirely when that ask comes as a housing crisis and a period of workforce instability are all converging across the state," said Senator Skoufis. "The residents of Oak Tree deserve safe and stable housing, and we're going to fight like hell to make sure they get it. I urge Alexander Property Holdings to extend tenancy for all residents."
"These Oak Tree tenants face a nearly insurmountable challenge: finding a new place to live at a time when the lack of affordable housing has only been exacerbated by the pandemic," said Alexander Bursztein, Executive Director at Legal Aid Society of Rockland County, Inc. "Fortunately, the laws of New York State afford protections for tenants unable to move at a time chosen by their landlords. The mission of the Legal Aid Society is to ensure that tenants' rights are protected to the fullest extent allowed by law, and that's exactly what we'll do in the case of these residents. With help from other agencies, we are hoping that no tenant will be made homeless as the result of this landlord's actions."
"I'm here today to say we need a voice," added Oak Tree resident Sharon Sierra. "Thank you for those who are trying to understand our situation. We just want time—extended time to find affordable housing. Our landlord wants to relocate us to Poughkeepsie, Monroe, or elsewhere, but I want to stay here and have my kids go to North Rockland High School, one of the best schools in the area. There's no rental housing here. We just don't know what to do."
Skoufis has long been an outspoken advocate for fair housing. In 2019 he stood with residents of the Silver Stream Mobile Home Park in Orange County to call attention to an unlawful rent increase by the park's owner, and later succeeded in getting the owner to drop the planned increase. He remains committed to ensuring all Hudson Valley residents have access to safe, affordable housing options.