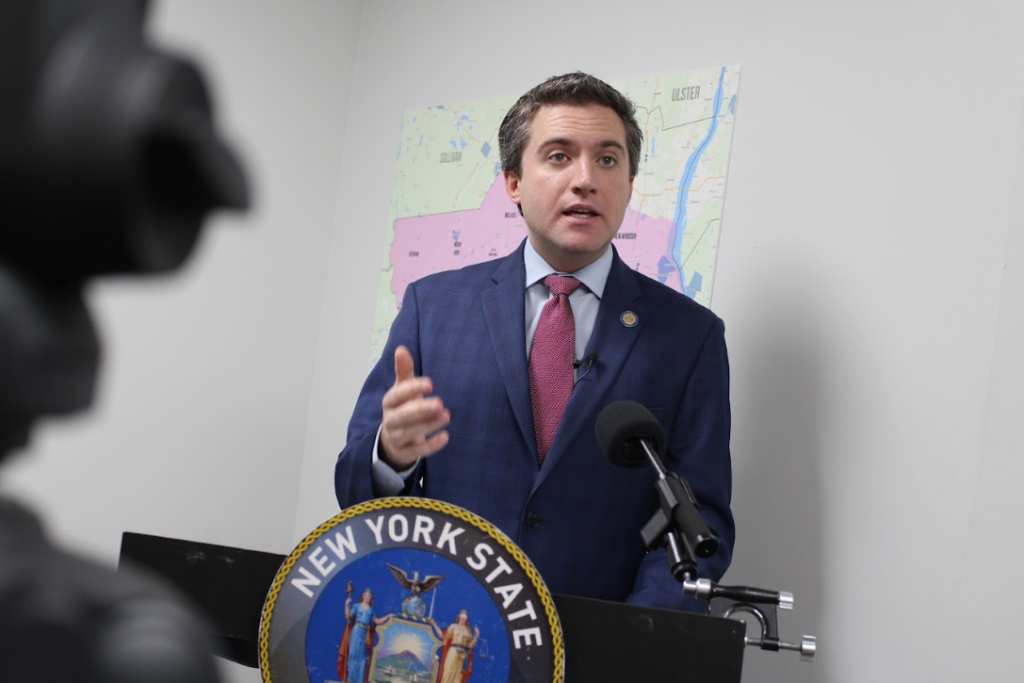 Senator James Skoufis (D-Orange County) announced the creation of a monitor within the State Inspector General's office to provide enhanced oversight of the Orange County Industrial Development Agency (OC IDA). The new monitor, negotiated by Skoufis as part of this year's state budget, will be empowered to overrule the OC IDA's tax break packages if they do not sufficiently consider the taxpayers, environment, or return on investment as is required by the agency's own Uniform Tax Exemption Policy. The monitor will also police the OC IDA to ensure all laws are being properly adhered to, including the strict prohibition on conflicts of interest.. The monitor will be paid for by the OC IDA at no expense to taxpayers.
The IDA's operations have recently been the subject of a probe by the County District Attorney's Office, in partnership with the New York State Comptroller's Office and the New Windsor Police Department.
In 2021, the Orange County Legislature voted to remove the entire seven-member IDA Board of Directors, consisting of Mary Ellen Rogulski, Chairman; Edward A. Diana, Vice Chair; James DiSalvo, Second Vice Chair; Brescia, Secretary; Michael Gaydos, Assistant Secretary; John I. McCarey and Denise Quinn.
Shortly after, Laurie Villasuso, the chief executive officer of the IDA, resigned. Legislators cited what they termed had been the lack of transparency by the Agency.
In February of this year, Skoufis, as chair of the Senate's Investigations & Government Operations Committee, announced a probe into the OC IDA's recent decision to award a 15-year corporate subsidy to expand an existing food processing facility that will cost the Goshen community and school district more than $2.25 million in tax revenue. The developer acknowledged on its application that they didn't need the subsidy to proceed with their expansion, but were granted the giveaway regardless. While the IDA has touted the project's anticipated job creation stats as reason enough to award the tax breaks, the applicant estimates that roughly 90% of any new jobs created will pay an average salary of just $35,000. 
Nearly 40 legislators, school district leaders from across Orange County, and fiscal policy advocates recently sent a letter to Governor Hochul imploring her to get behind this critical oversight proposal. In light of the OC IDA's documented pattern of bad deal-making that has deprived local communities and school districts of vital tax revenue for years, this new monitor will enable true, long overdue, pro-taxpayer reforms.
"My constituents – the hard-working taxpayers of Orange County – are sick and tired of the corporate welfare regularly doled out by the IDA," said Senator Skoufis. "They know, as I do, that many of the agency's recent deals are horrible for their communities, yet they've been powerless to pump the brakes. This state monitor will give real teeth to the state's oversight, reigning in the IDA's blatant disregard for taxpayers and driving more tax dollars into our communities where they belong." 
"If our county IDA was operating responsibly," added Skoufis, "they'd be incentivizing industries to bring good-paying jobs and smart, sustainable development to our region – not poverty-wage jobs in big-box warehouses on the backs of our taxpayers. I'll never stop fighting to reform this broken system." 
"Senator Skoufis fought hard to get this important accountability measure in the budget and should be applauded for doing so," said Ron Deutsch, Director of New Yorkers for Fiscal Fairness. "He has been a champion for reforming our haphazard economic development programs for years and has proposed numerous pieces of common-sense legislation to ensure taxpayers get a good return on their investment–and that we reign in out-of-control IDA spending and abatements."
"Thanks to Senator Skoufis, the Orange County IDA will now face tough oversight and real accountability — and taxpayers will get real protection," said Michael Kink, Executive Director of Strong Economy For All Coalition. "Public resources should only be used to build broad, shared prosperity that benefits all of us, not shady subsidies to connected corporations to pad private profits. We applaud this achievement and look forward to the results of the independent investigations that Senator Skoufis has won."  
Skoufis anticipates the monitor will be up and running within the next two months.