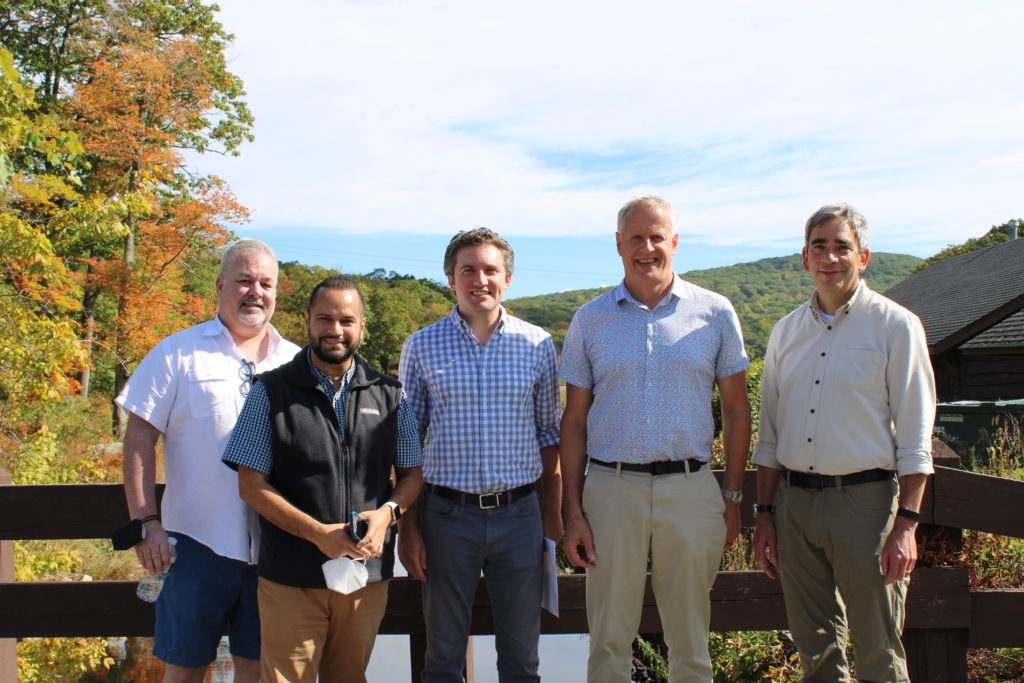 Senator James Skoufis (D-Hudson Valley) joined Senator José Serrano, Chair of the Committee on Cultural Affairs, Tourism, Parks & Recreation; Assemblyman Daniel O'Donnell Chair of the Committee on Tourism, Parks, Arts and Sports Development; leadership from the New York State Office of Parks, Recreation & Historic Preservation; and the Palisades Parks Conservancy for a tour of Harriman and Bear Mountain State Parks last week. The group reviewed a new proposal for a unified and reinvigorated multi-season, multi-use destination that could better support the two parks' nearly 3 million annual visitors.
Assessing the extensive damage still unresolved from 2011's Tropical Storm Lee and subsequent storms, Skoufis called for a swift reconstruction and reopening of Sebago Beach. Once a hugely popular destination for summer fun, Sebago Beach served countless local families and Hudson Valley visitors for six decades as one of three public beaches within Harriman State Park. The beach's decade-long closure has resulted in overcrowding in other parts of the park, especially as locals have sought outdoor recreation to battle the effects of pandemic isolation. For nearly half a decade, Skoufis has led the campaign to reopen Sebago, fighting for state funding and working with local stakeholders to assess the damage and identify a path forward. Funding in this year's state budget was allocated for preliminary environmental studies and early planning efforts.
The legislators and NYS Parks also toured other recreational areas to review proposed facility improvements to Reeves Meadow, Silver Mine, Anthony Wayne Recreation Area, Bear Mountain's large play field, and Hessian Lake.
"We cannot allow Sebago Beach to be lost to the elements when so many families have known its potential as a recreational treasure," said Senator Skoufis. "After over a year of pandemic-related isolation, we know that mental health and physical health are inextricably bound together, and creating safe, healthy environments for residents to relax and enjoy themselves is critical. I am thrilled to see Parks leadership putting forth a unified vision for Harriman and Bear Mountain State Parks, and I urge the state to carve out any resources necessary to ensure safe swimming, boating, hiking, and socializing can continue here in years to come."
"As Chair of the Senate Committee on State Parks, I believe that access to nature provides real physical and mental health benefits," said Senator Serrano. "As we seek to connect even more New Yorkers with parks, it is essential that we preserve, protect, and enhance our green spaces, making them safe and accessible for all. Harriman and Bear Mountain are a refuge for diverse communities across the city and state, providing an ideal setting for countless recreational activities. I thank New York State Parks for setting their sights to the future of these parks, and Senator Skoufis for his strong advocacy and commitment to ensuring that New Yorkers can enjoy these wonderful green spaces for generations to come."
"Parks provide essential services year-round," said Assembly Member O'Donnell. "They give kids opportunities to engage in hands-on learning activities, improve our green infrastructure, and support public health. I am proud to oversee the Assembly's Committee on Tourism, Parks, Arts, and Sports Development during this critical time in our pandemic recovery. Revitalizing all of our parks—including Harriman and Bear Mountain State Parks—is key to charting a new path forward. Senator Skoufis has been a consistent champion of parks, and I look forward to working with him to ensure they remain fully accessible to the public."