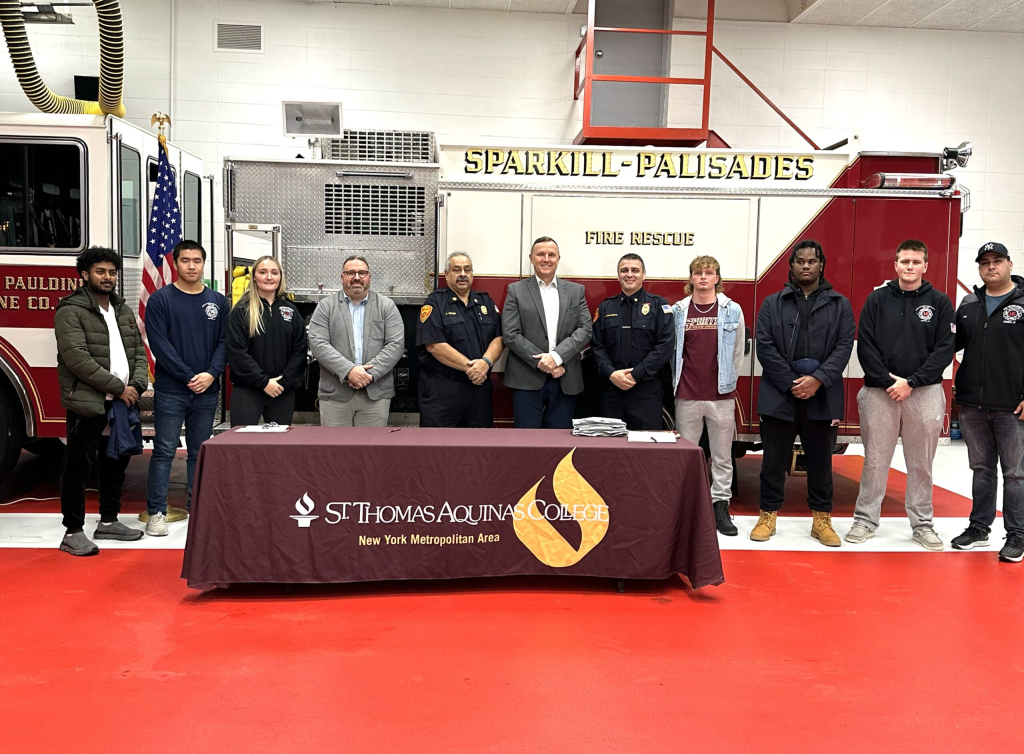 Photo Credit: St. Thomas Aquinas College
SPARKILL, N.Y. — In a collaborative move aimed at fostering community spirit and supporting volunteer firefighters, St. Thomas Aquinas College has officially partnered with the Sparkill-Palisades Fire Department to offer tuition scholarships.
The agreement was formally sealed during a signing ceremony at the Sparkill-Palisades Fire Department, with Kenneth Daly, President of St. Thomas Aquinas College, and John Bruen of The John Paulding Engine Company, Inc. officiating.
The partnership underscores the college's commitment to making higher education more accessible to dedicated volunteers within the local community. Ken Daly, President of St. Thomas Aquinas College, emphasized the importance of education in the current landscape. He stated, "The importance of a college education is greater now than ever, and we are committed to providing access to affordable education in order to help change the lives of dedicated volunteers in our local community."
The initiative took shape in August when Mike Yannazzone, Acting Chief of the Sparkill-Palisades Fire Department, met with Mike DiBartolomeo, Vice President for Enrollment Management at St. Thomas Aquinas College. During the discussions, it was proposed that the College would provide significant scholarships. These scholarships would include a 50% tuition discount for volunteer firefighters in good standing and a 25% discount for their spouses, children, or grandchildren.
In the words of Yannazzone, "This is, by far, one of the most significant incentive programs developed by a private organization in the interests of volunteer firefighter recruitment in Rockland County."
The Rockland County fire service has been grappling with low volunteer firefighter enrollment, impacting service efficiency and operations. This decline in efficient and effective service prompted the establishment of the Rockland Fire Preservation Task Force in late 2022, an independent advocacy group advocating for raising awareness about volunteer firefighter staffing and department models.
Mike Yannazzone expressed optimism about the collaboration and its potential to encourage volunteerism. He said, "It is through efforts and partnerships with organizations like St. Thomas Aquinas College that will proactively encourage volunteerism within our ranks. It is hopeful that this joint initiative will serve as a model for others."