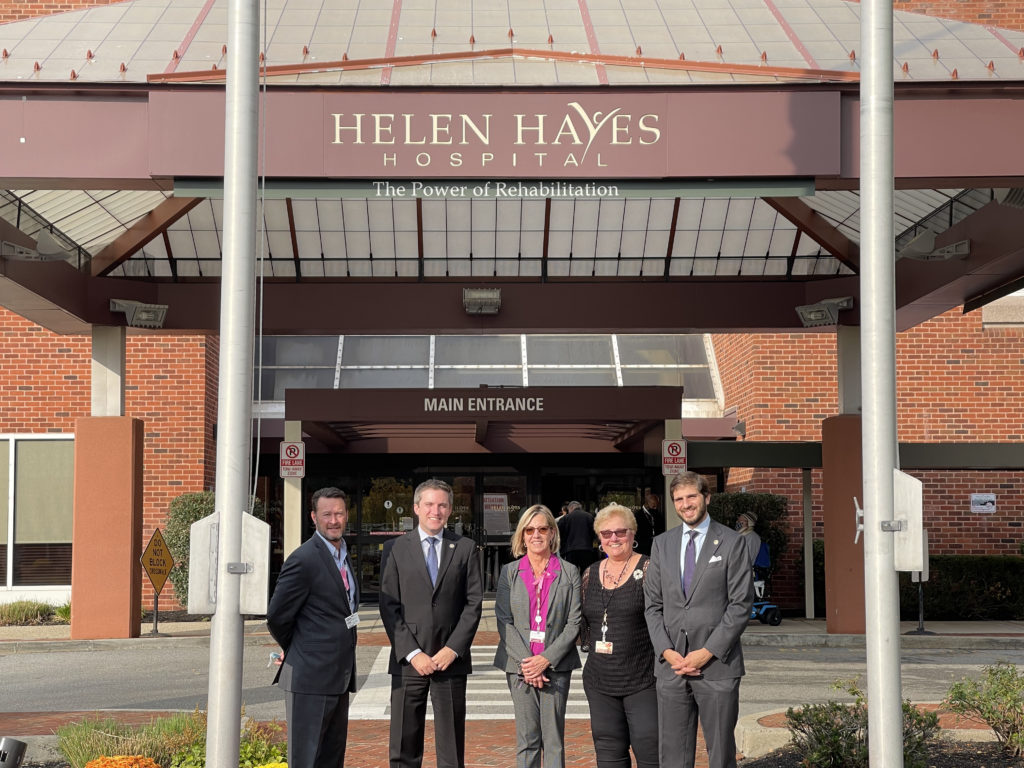 Senator James Skoufis (D-Hudson Valley) hosted Senator Andrew Gounardes (D-Brooklyn), Chair of the Committee on Civil Service and Pensions, on October 25th as part of Gounardes' Statewide Civil Service Tour for a tour of Helen Hayes Hospital. Helen Hayes is the only state-run rehab hospital in the entire state. The Senators met with hospital administrators, nurses and other medical staff to discuss the challenges they are facing and hear first hand what these public servants are facing.
"Mounting shortages in New York's healthcare workforce are starting to take a toll not just on facilities such as Helen Hayes, but on healthcare staff statewide and their ability to provide quality care for patients who need it. I am humbled by the work of these dedicated public servants right in our backyard and recognize the need for state leadership to take decisive action: we must improve pay for healthcare professionals, full stop. I thank Senator Gounardes for visiting Rockland County and am grateful to the staff and leadership at Helen Hayes Hospital for giving us a front-row seat to your busy workday," said Senator James Skoufis.
"Our hospital workers have been on the front lines of the COVID-19 pandemic, and deserve our respect and admiration. It was a pleasure to meet with the staff at Helen Hayes hospital to hear about the last two years throughout the pandemic and discuss their needs to remain on the front lines. I want to thank Senator Skoufis for inviting me and look forward to working together to support these workers," said Senator Andrew Gounardes.
Senator Gounardes' Statewide Civil Service Tour kicked off earlier this Fall and includes the following stops past and planned:
9/14, 3:00pm: The Civil Service Employee Association, New York City
9/22, 12:00pm: United Probation Officers Association, New York City
10/19: Meetings with New York State Police Benevolent Association, tour of Albany DMV, New York State Department of Financing, and Kaaterskill Falls, and meeting with elected partners, Albany
10/22-Meeting with member unions of the Long Island Public Employee Conference, Long Island
10/25: Meetings with elected partners and local police and firefighters, Hudson Valley and Westchester
11/8: Visit to public schools and EMS stations with elected partners, Rochester
11/9: Visits to Buffalo City Hall and Erie County Executive Building and a tour of a Department of Public Works bus depot with labor and elected partners
11/19: North County visit to an upstate prison, tour of Great Meadow and Washington Prisons