Stony Point, NY:
The North Rockland Chamber of Commerce will be sponsoring the 7th Annual Stony Music Fest, scheduled for Saturday, August 14th, from 12 noon to 8 pm. The performance will be held at Riverfront Park, adjacent to the Hudson River.
Six bands are scheduled to perform – a collection of diverse musical genres from across the Hudson Valley – as well as a special presentation by Habitat for Humanity, a charitable organization with the mission of: "…work in partnership with thousands of Rockland County volunteers and qualified low income families of all races, religions, and creeds to build and renovate homes and provide financial education so that there is decent, safe, affordable housing where families can live and grow in a stable environment."
Proceeds from donations for tickets (according to their website, recommended donation is $20) go to Habitat for Humanity Rockland, as well as to the performing artists for the day.
In addition, with the support of the North Rockland Chamber of Commerce, local restaurants in North Rockland have provided discounts and delivery services for this year's guests.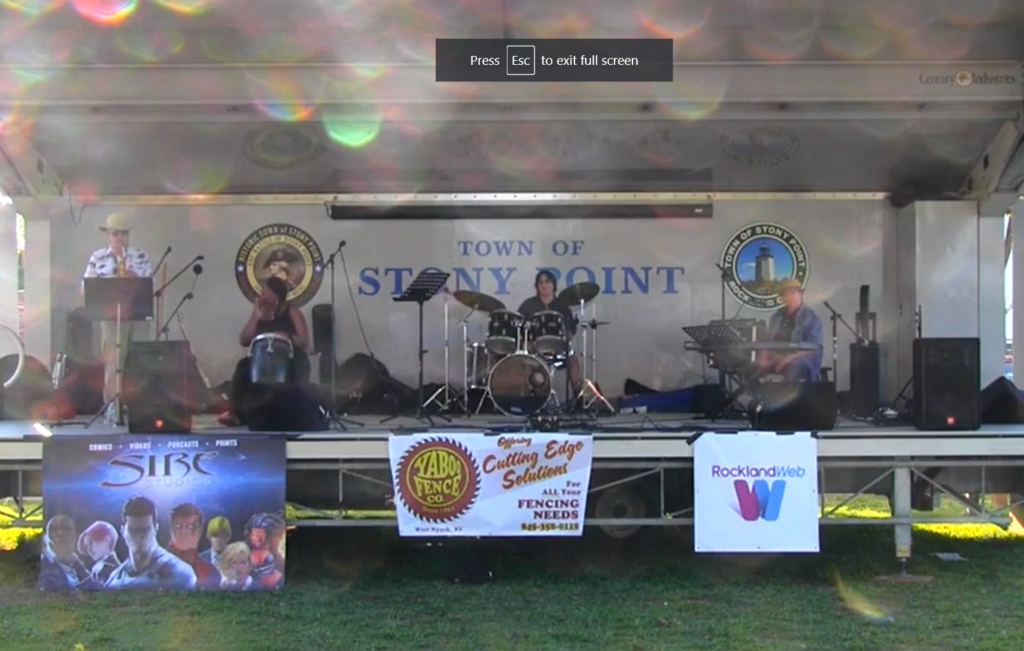 The schedule for the day, as indicated on the event's Facebook page, are as follows. All times are indicated to be approximate:
12:00 pm – Festival begins, wristbands and local restaurant information provided.
12:30 pm – Hal Keshner Band (Jazz)
1:00 pm – Delivery and discount services from local restaurants available, announced
1:45 pm – Lords of the Sun (Acoustic Rock)
2:30 pm – Brief messages: Habitat for Humanity, Town of Stony Point, North Rockland Chamber
3:00 pm – Frank Ocasio Brother Band (Funk)
4:15 pm – AK40 Devin Dwyer (Hip-Hop)
5:30 pm – Mad Tea Party (Party Rock)
7:00 pm – The JamCats (Classic Rock)
The festival was originally established in 2015 by local businessperson Thomas Ossa, who had set up the first of several summer concerts as a casual, friendly get-together with music-minded colleagues each year. Five of the six concerts were held at Charles C. Eccher Park, with permission and general guidance from the Town of Stony Point.
"I didn't expect it to grow and gain support like this. I just wanted to play music with my friends."
As the concept grew over following years, local business sponsors began to take notice, and offered their support of each of the bands, in exchange for company banner placements and digital promotions across Rockland County, using Ossa's company, RocklandWeb. Graphic design, digital promotion and event coordination were all provided by the company's team, at no additional cost to the festival each year.
This year's sponsors are as follows:
Emerald Retirement Planning
FJ DeToma Construction
Dana Pest Control
Yaboo Fence Co.
Hauser Bros., Inc.
Beginning in 2017, the concert's event footage – all 8 hours – were fully recorded and digitally shared across social media channels, as well as posted to YouTube. Ossa states that this turned into a concept for steady growth, year over year. As the concept began to scale, Ossa decided to reincorporate his company to include additional support services for the creation larger concerts over the coming years, including video production for Charities such as Stony Point Seals, and for Habitat for Humanity.
In 2020, during a COVID emergency, a concert was held in support of local North Rockland restaurants; social distancing protocols and masking guidelines were followed by the guests, and the event was capped at 50 attendees per performance. The event was moved to Riverfront Park, adjacent to the Stony Point Seals' annual Plunge on Super Bowl Sunday of each year. The show was widely regarded as well organized, and plans were soon put in place for expanding attendance for 2021 to 100 guests per band performance. Planning began in March of 2021.
In addition, with the support of the North Rockland Chamber of Commerce, the local restaurants have provided discounts and delivery services for this year's guests. One example provided by the Chamber's Facebook Page shows: "Playa Cancun offering 10% off your entire check on Saturday, if you show a paid Stony Music Fest ticket."
Additional restaurants are offering delivery services to Riverfront Park, beginning at 1 pm on Saturday:
Pasta Cucina
Gyro Point Plus
B's Nest Deli
Deli Central
Halligan's Public House
Stony Point Pizzarena
This year, additional volunteers and support staff were added, including banner printing services by Shell Ann Printing for both the sponsors and their bands.
Digital advertising will also be made available to local businesses that wish to participate after the event concludes, via RocklandWeb's video services team. The full 8-hour performance is scheduled to be released online, with a target launch on Labor Day weekend.
According to weather.com, this year's event includes a chance of rain in the afternoon. When RocklandNews asked Mr. Ossa of his feelings on what the weather will be like, after showing him the weather report, he stated with a slight grin: "That's not up to me. That's up to the higher power. We just know that we'll be there on Saturday, ready to play.
To purchase tickets, visit www.stonymusicfest.com