The start of February kicks off Black History Month in New York and across the country.
Governor Hochul Presents the FY 2024 Executive Budget, watch the 12:00PM live stream here.
The President was in New York City to formally announce a $292 million grant to help complete an early phase of the Hudson Tunnel project, part of the expansive Gateway Program in the Northeast Corridor.
President Biden is scheduled to attend the DNC Winter Meeting in Philadelphia on Friday. New York is still in contention to host the 2024 national convention.
Governor Kathy Hochul and Mayor Eric Adams announced new data that shows significant progress on subway and transit public safety. Safety initiatives that were introduced last year have proven to be successful, with a 16% drop in major crime on the subway.
Governor Hochul rides inaugural LIRR train to Grand Central Madison. The project is expected to save up to 40 minutes per day for commuters and connect millions to Manhattan.
Governor Hochul announces expansion of the Capital Region Crime Analysis Center while highlighting State of the State Proposals to increase funding for local law enforcement agencies.
Governor Hochul announces Cape Vincent, Lyons Falls, and Waddington as North Country winners of first round of NY Forward program. The $100 million NY Forward program is working on revitalizing smaller and more rural downtowns all across the state.
Governor Hochul attends the swearing-in of House Minority Leader Rep. Hakeem Jefferies and Rep. Adriano Espaillat's State of the District.
Mayor Adams outlines "Working People's Agenda" for NYC in second State of the City address.
Attorney General James recovers $422,000 for hundreds of Long Island tenants illegally denied security deposits: "New Yorkers shouldn't have to worry that their landlord will illegally withhold money that belongs to them," said Attorney General James.
Comptroller DiNapoli offers a roadmap to improve New York State's credit rating.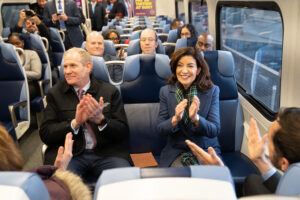 BRAND NEW LIRR TO GRAND CENTRAL CONNECTION: Governor Kathy Hochul took a historic ride as she boarded the inaugural Long Island Rail Road (LIRR) train to Grand Central Madison in Manhattan. The new service marks a major milestone in the state's efforts to improve transportation options for Long Island residents.
The new service will run between Jamaica and Grand Central Madison between 6:15 a.m. and 8:00 p.m. on weekdays and between 7:00 a.m. and 11:00 p.m. on weekends. Trains are running every 30 minutes in both directions during weekday midday periods as well as on weekends, and once per hour during peak periods – arriving in Grand Central between 6:30 a.m. and 10:00 a.m. and departing between 4:30 p.m. and 7:30 p.m.
Overall, the Governor's leadership on this issue is seen as a major step forward in improving transportation options and reducing traffic congestion, making it more convenient for Long Island residents to travel to Manhattan and other destinations.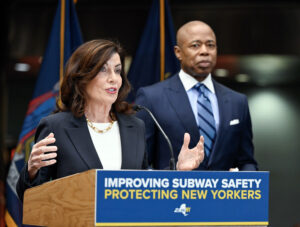 GOVERNOR KATHY HOCHUL AND MAYOR ERIC ADAMS ANNOUNCED NEW DATA THAT SHOWS SIGNIFICANT PROGRESS ON SUBWAY AND TRANSIT PUBLIC SAFETY:Last October, the Governor, and Mayor announced that the NYPD and the MTAPD would surge officer presence on platforms while expanding capacity at the New York State Office of Mental Health to support unhoused individuals who are sheltering in the subway system and those who are suffering from severe mental illness. Additionally, Governor Hochul announced that teams deployed after October 2022 have helped more than 650 unhoused high-needs New Yorkers connect with critical intervention services.
Since the initiatives were announced last October, major crime in the subway system is down 16 percent, compared to the same time period during the prior year. Additionally, the crime rate on subways is returning to pre-pandemic levels. In 2019, the rate of crime was 1.5 crimes per million riders. In 2022, the rate of crime was 2.3 per million riders, so far in 2023, the ridership-adjusted rate is only 1.7 per million riders. Transit murders decreased from four to two. Further, this January has seen the lowest level of transit crime compared to any January since 1993 when this data was first collected. Transit shootings are down 14 percent, and there has been a notable decrease in robberies, down 30 percent. Overall arrests have increased by 43.4 percent since October 2022 and Transit Adjudication Bureau summonses have increased by 84.8 percent.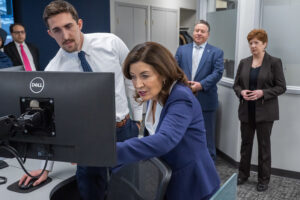 EXPANSION TO CAPITAL REGION CRIME ANALYSIS CENTER: Governor Hochul announced on January 24th the expansion of the Capital Region Crime Analysis Center, which will include the addition of new technology and personnel to assist in the fight against crime in the area.
"There is no greater obligation than ensuring every New Yorker can live in safety, and that has always been my number one priority," said Governor Hochul.
Through a unique partnership between the state Division of Criminal Justice Services (DCJS) and the U.S. Bureau of Alcohol, Tobacco, Firearms and Explosives (ATF), the 10 centers access the ATF's National Integrated Ballistic Information Network (NIBIN) and by this summer, each center will have technology on-site to process shell casings and identify potential matches from different crime scenes in multiple jurisdictions across the state. This identification process previously took up to a month but will now take 24 to 48 hours and has a 99.6 accuracy rating.
NATIONAL
PRESIDENT BIDEN IN NEW YORK CITY: President Biden visited New York City to address how funding from the bipartisan infrastructure law will help the Hudson River tunnel project. This project aims to improve reliability for the 200,000 passenger trips per weekday on Amtrak.
The President formally announced a $292 million grant to help complete an early phase of the Hudson Tunnel project, part of the long-delayed Gateway Program. This money comes from his $2.3 trillion American Jobs Plan that calls for investing $85 billion in transit, $115 billion for highways and bridges, $80 billion for Amtrak, plus significant transportation investments in airports, seaports, electric vehicles, and hardening our infrastructure from floods and other natural disasters.
The president is pledging that government spending on infrastructure will boost economic growth and create blue-collar jobs.

NEW YORK CITY STILL IN RUNNING TO HOST DEMOCRATIC CONVENTION: This Friday in Philadelphia, President Biden will be attending the DNC Meeting. New York City is one three finalists in contention to hold the national convention in 2024.
EVENTS
February 16th, 7:00pm: Albany County Democratic Committee Meeting
Capital District Celtic Hall, 430 New Karner Road, Albany, New York 12205
February 23rd, 5:30pm: ECDC's Annual Chairman's Council Reception
Eckl's at Larkin, 703 Seneca St., Buffalo NY 14210
If you would like to share your event with us, email us at info@nydems.org